Wooden swings: variations and recommendations for making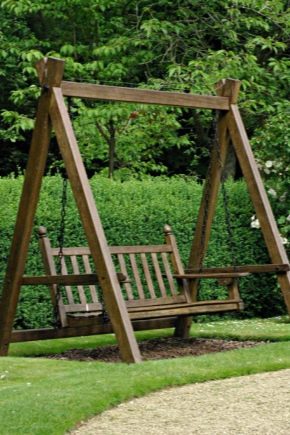 Advantages and disadvantages
Among the shortcomings, there is only one significant one - a low degree of resistance to natural factors, such as rain, snow, damp, wood-insect insects, temperature drops, and sunlight.
Kinds
By installation method
It should be noted that the suspended structures can be used without a shed only in dry weather, since the ropes and ropes with which they are attached, although treated with special compounds, are still subject to decay with frequent wetting.
By purpose
If there are several children in the family, it is better to install double swings, when two seats are attached to one base.
In form
Choosing a material
The breed is also responsible for the texture, for example, in deciduous trees, it is more interesting and diverse due to the pattern and brilliance.
Appropriate place
If you intend to place a swing on the veranda, porch, or in the gazebo, then you should pay attention to the panoramic view, which you will have to contemplate while relaxing, the movement of the sun so that it does not shine all the time in the eyes, and other factors.
How to do it yourself?
Today, on the Internet, you can find any schemes and workshops that help build a wooden swing for a cottage or garden plot with your own hands. But before you start preparing materials, you should determine the purpose, location and method of installation of the structure.
Suspended type on A-shaped supports
Blueprints
Standard Instruction where steps are presented step by step.
It must be remembered that the bottom width between the two supports should be greater than the length of the seat by 0.5 meters or more.
Children's models differ from adults in a large rolling angle. Therefore, for babies, it is necessary to provide fall protection elements on the seat: handles, backrests, clamps.
Out skateboard
For babies
Connection of a support with a seat
Installation
Coating
Since it is very inconvenient to sit on a hard seat, designers suggest using various versions of removable mattresses and pillows, covers on which can be changed.
From logs
Thanks to the logs on your site you can build an original, stylized antique swing. Step-by-step instruction of the simplest model is presented below.
Training
Material
Making the base
Successful examples