How and from what you can make a swing?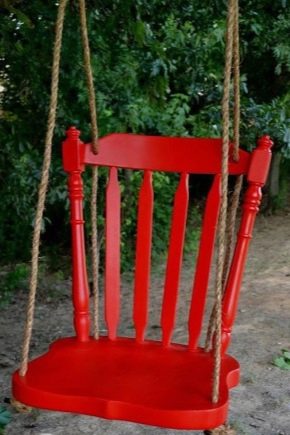 Varieties of products and interesting ideas
Stationary facilities
But still, the Russian climatic conditions are fundamentally different from those of Western Europe - for example, we have, for example, cold rains much more often. It is appropriate to use logs as the main structural material. It will look very attractive and guarantees the reliability of the building. Even a strong wind does not tumble down a similar arbor and swing in it.
Mobile
Materials
Usually dig 4 notches with a hand drill. Concrete is poured in there, most often on the basis of M400 cement. The bottom is required to cover the sand pillow. When the swing is installed, they are covered with protective paint. It does not matter what part of the metal, and how much wood - the weather will fall on them to the same extent.
Accommodation options
Pits and hillocks are not the best option for placing a swing. It is recommended to put them behind houses, but not before them. There you can relax emotionally without distraction to the economic aspects. It is also necessary to see if there are any obstacles in the specific place for the normal movement of the seat. The calculation is made on the widest possible scope, reserving some more space for reserve.
Preliminary stage
Selection of tools
Site preparation
There is no consensus about the need for concreting. Some people believe that this technique helps to avoid the occurrence of holes, where water would accumulate. But others point out that this increases the risk of injury. Because it is much more correct to simply tamp, compact the ground. Additionally required to provide high-quality drainage.
Manufacturing process
For adults
For kids
Safety requirements for swings for children are much higher than for adults. Be sure to rely on the corners. It is recommended to paint the construction in juicy, saturated colors. This is important both for attracting interest and for developing color perception. It is also necessary to nail the nails as much as possible so that even the caps do not stick out.
Consider another option, how to make A-shaped swing.It all starts with a frame that is formed from a pair of pipes 5 m long and 4 cm in outer diameter. Both parts are bent by 30 degrees. Smaller tubes are welded to them. The arisen halves are connected with a vertical pipe.
Calculation of parameters
The U-shaped frame is made of a bar with a section of 8x8 or 10x5 cm. The crossbars are prepared from bars or logs of identical sections. The seat can be made from a single plank with a size of 60x30x2.5 cm. The length of the chain used for the suspension should be 2 times the height of the swing. The recommended size of screws is 8x0.45 and 5x0.35 cm.
What can a seat be made of?
Beautiful examples