Swing balancer: what is it and how to do it yourself?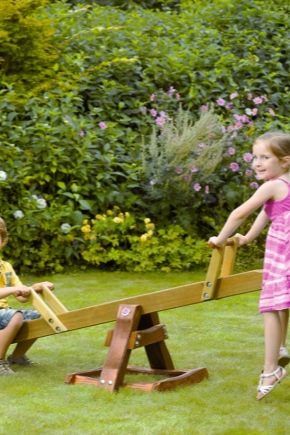 Description and principle of operation
Materials and colors
Style and design
The decoration can be anything, the imagination does not limit anything.
How to do?
It is important to note that all these parameters are approximate. The exact dimensions must be designed on the basis of the individual characteristics of the children.
It is important that the moisture content of the raw material is no more than 15%, otherwise the product will quickly crack and disintegrate. As a seat, you need to use a board with a thickness of at least 3 mm. In addition, you will need slats, parallel bars for support and stiffeners, hardware, metal rod, material for pens, primer, varnish and paint.
Handles should be provided in any form - as recesses in the board, as a separate design or part of the seat.
Maintenance and Care Tips
Successful examples