How to make a swing with your own hands?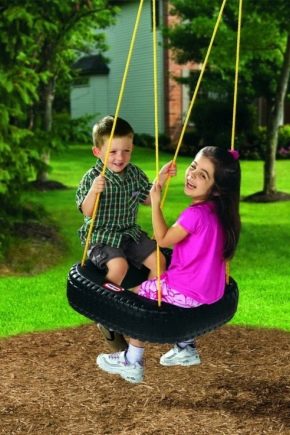 Materials used
Types of designs
How to make for the street?
Car tire swings
The third option is suitable for the most advanced in terms of possession of the grinder. You will need to draw a template for cutting the tire, then, following this peculiar sketch, cut it, bend it and fasten it with studs so that any animal or bird will come out.
Wood Swing
From scrap materials
Canvas swing
Swing from a tree on support
Swing from metal on supports
Swing Pendulum
How to make a home?
In the upper part of the door jamb in the middle at a distance of about 10 seconds, two nails are hammered. They hang a rope with a swing and leveled. After that, the nails are bent up with hammer blows so that the twine does not jump off the fastener. Such swings are good for kids from 1 year old to 3-4 years old.