Rubber coatings for playgrounds: tips on choosing and using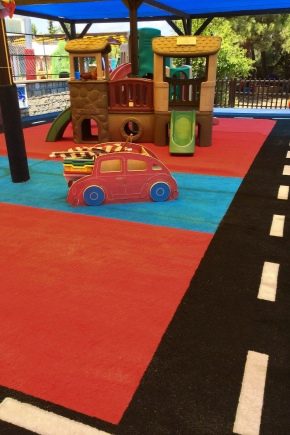 Advantages and disadvantages
And another small drawback can be considered laying conditions - only in dry weather (it is deformed in wet weather).
Types and characteristics
Seamless monolithic coating
The only difficulty in using this type of coating is that the solidity makes repair more difficult. The damaged part needs to be cut out, and then apply a new layer, which may differ slightly in color from the original, since it is difficult to find the desired shade.
Modular rubber tile
Possessing excellent technical properties, the tile still has not such wide use, and it is rarely used for playgrounds. When installing it is necessary to strictly follow all instructions of the manufacturer.
Modular plastic coating
Rolled rubber coating
How to choose?
Typically, the value indicator speaks of product quality. Therefore, choosing a coating, you need to remember this. The cost is much lower than the average suggests that the manufacturer has saved on raw materials, and hence the quality is much lower. This may affect the safety of children and the appearance of the coating.
Styling Features
In rolls
Modular tiles
Seamless cover
Repair of seamless material and replacement of damaged tiles is carried out using the same technology.
Beautiful examples