3D bedding: features and design options sets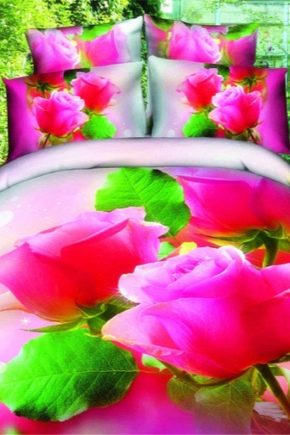 3D bedding won the hearts of customers. There is a large selection of various textiles, but these kits have the most original look and many unique colors that can make the interior of the room interesting and incredibly attractive. Three-dimensional images allow buyers to purchase not only a set of bed linen, which will sleep comfortably, but also a creative decoration for the bedroom.
Features of the sets
This bed linen is made with the help of high-tech equipment, using the newest developments in the textile industry.Many believe that such drawings are applied on top of the canvas by means of thermal film, but this is a huge misconception.
Manufacturers put pictures on natural fabrics using special printers. Thanks to this method, the print does not fade and does not fade for many years, so 3D-kits can serve for quite a long time without losing an attractive appearance. Natural fabrics are an important factor, which suggests that products are of high quality and safe for both children and adults. If a dishonest manufacturer will use artificial second-grade fabrics, the images will be blurred, the three-dimensional effect will be smeared, and the paint will wash off pretty quickly.
Similar bedding sets can be made from the following materials.
Satin is extremely often used, which is incredibly durable, durable and pleasant to the touch. Cotton threads are woven, making the fabric soft and shiny. Natural canvas contributes to durable staining and durable.
Hygroscopic and well-breathing linen is made from bamboo, which will save the wearer from the greenhouse effect in the summer and will not cool in winter. It has antibacterial properties.Drawing keeps strongly, will not fade. This kit does not need to iron.
Jacquard creates an original brilliant effect, is a durable, quite practical and comfortable material. On this fabric three-dimensional pattern looks elegant and luxurious.
Advantages and disadvantages
3D bed linen has many positive qualities, thanks to which such sets have become extremely popular and in demand. They are incredibly beautiful, have a realistic image printed on the fabric. Manufacturers use drawings that could help a person to fully immerse themselves in a pleasant, cozy and comfortable atmosphere. Most varieties are colorful and juicy. This is facilitated by innovative technologies that perfectly convey the completeness of the picture.
For the manufacture of bed linen manufacturers use only hygienic materials that are not capable of causing allergic reactions. Therefore, there are children's kits with a specific series of drawings created from popular fairy tales and cartoons. It perfectly absorbs moisture, so it is ideal for use in the summer and people who are sweating in their sleep.
Natural materials without any problems will be able to pass air, the linen "breathes" and allows the owner to maintain a strong and healthy sleep. It will perfectly tolerate a large number of washes, will not become wrinkled after use and will retain an attractive appearance for a long time.
Any, even the most ideal and high-quality thing has its drawbacks. The disadvantage of 3D laundry is quite a high price. There are also repulsive colors, extremely bright and aggressive. They will not be able to harmoniously fit into the design of the room and promote a peaceful sleep.
Design options
Any manufacturer wants to arrange their products in such a way that it is interesting, unusual and beautiful. There are many unique and creative collections, but most of the drawings have classic cozy themes that allow the product to blend in harmoniously with any interior.
Cities
Many people like to travel, discover something new, look at various sights. Other countries are subjects that allow you to fulfill your dreams and touch a piece of the beautiful.The owner of such a 3D underwear will be able to visit Paris and admire the Eiffel Tower, which is extremely popular among couples in love, as well as experience the magic of the alluring skyscrapers of New York. Such products are a wonderful motivation or a pleasant, cozy memory that remains from a good and fun holiday. Textiles with a pattern of cities would be appropriate in any design.
Animals
Manufacturers often use an animal theme in the design of textiles. But it should be remembered that the images of wild and aggressive animals can cause nightmares and increase the aggressiveness of the owner. It is worth choosing more neutral, calm and noble drawings that will decorate the bedroom. You can buy a creative and unusual set of bed linen, which is a beautiful image of a graceful leopard or tiger, stately lion or elegant panther.
For lovers of all the cute and fluffy manufacturers create products with funny pandas, majestic horses and giraffes. These animals are less aggressive. Also, manufacturers offer a harmless option with images of fluffy cats,dogs and other animals that people like so much.
Couples in love extremely often purchase sets with swans. They look most elegant and romantic. Such drawings will decorate the bedroom and make the dreams calm and pleasant.
Flowers and plants
These drawings are the most popular, as they look elegant, beautiful and atypical. Even on ordinary bedding, you can often see bright scarlet roses, elegant irises, sunny daisies or other equally beautiful and elegant flowers. On products with a 3D effect, large flowers and various large compositions are often placed, but you can find a lighter version, which depicts a beautiful forest lake or a sunny forest glade. These kits are great for cold winter nights. They will be able to improve mood, contribute to the emergence of good and quiet dreams, as well as create a warm and cozy atmosphere. You can choose underwear with beautiful large sunflowers, which will become the personal summer sun.
Space
In childhood, some dreamed of becoming astronauts. Bed linen with a 3D effect can make dreams come true.By purchasing linen with space, a person will be able to plunge into the magical cosmic expanses, enjoy unusual and interesting dreams, feel the cosmic atmosphere. Incredibly colorful and interesting drawings will make the life of the textile owner more vivid.
How to care?
To care for and store such textiles need the same way as classic models of bed linen made from similar materials. It retains a beautiful view for a long time and tolerates both machine and hand wash. To set the kit for a long time, you should use a number of recommendations:
it is necessary to wash textiles at a temperature not higher than forty degrees;
if there are stains on the laundry, they should be removed before it fits into the laundry machine;
when textiles will be rinsed, you need to add air conditioning, which is able to restore and soften the fibers;
monochromatic and color kits are erased separately, otherwise they may shed;
it is better to put a delicate mode of washing and spinning;
use of bleach and aggressive laundry detergents must be avoided;
it is better to use liquid products made for washing colored laundry;
if the product has any embroidery, you should iron it from the wrong side;
maximum temperature when ironing - 110 degrees;
It is better to iron a slightly wet product.
If the owner of the linen will be able to take into account all the recommendations, the kit will last for a long time, not to lose the perfect appearance and give a lot of positive emotions. A cozy atmosphere and sound sleep is the key to good health.
Reviews
Reviews say that such textiles are often purchased as a gift. You can find very many unusual and unique options that can surprise. Manufacturers do not stint and offer a variety of drawings, where you can see landscapes, flora and fauna, portraits, films, abstraction and many other equally interesting and attractive options. Linen owners write that you can easily pick up two or three different sets that are ideally suited to the overall design of the room.
This textile is very popular with children, as it is able to make the interior of their room creative, fun and truly unique. Some have reported that you should be careful about choosing textiles for very young children.If you choose too saturated and bright colors, as well as an extremely realistic picture, this can lead to insomnia and overexcitement.
In general, reviews of such underwear are positive or neutral. There are also dissatisfied with 3D underwear people who have purchased an overly bright kit. If the bedding starts to irritate and affects the well-being and nervous system, it should be replaced. Textile owners are satisfied with the quality of PBC, which does not cause allergies and has a good effect on health. It has a large number of advantages, it is easy to care for him.
In the next video you can watch a review of bed linen sets of the SEDA 3D EXCLUSIVE series from elite satin with a 3D effect from TM Kingsilk.