Satin bed linen: the pros and cons, tips on choosing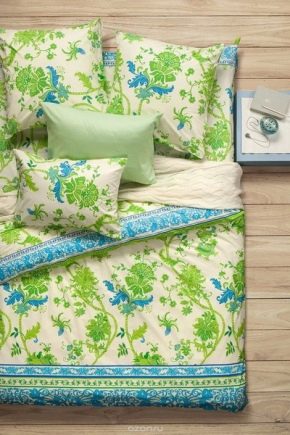 At all times, great attention was paid to the choice of bed linen, because sleep depends on its quality, and with it the mood and state of human health. Our article is devoted to the nuances of the choice of sets for sleep from atlas.
Special features
The atlas was originally made from natural silk threads; China is considered its homeland. In translation, the name of the fabric means "smooth", which is directly related to its external characteristics. Atlas for many centuries was considered a material for aristocrats. Nowadays, this fabric is not created exclusively from silk threads, they are used for the base, and synthetic fibers, as well as viscose and cotton, are used as auxiliary.All these components give the satin linen a great look and high quality.
The advantages of atlas:
natural reliable material that is of high quality;
excellent breathability and absorption, dries quickly;
does not cause allergic reactions;
matter soft to the touch, with a glossy shine, gives a feeling of coolness in the heat.
The disadvantages of the material include:
too high price;
the fabric is rather slippery and constantly slipping off the bed;
needs careful care;
unpleasantly cools in winter;
stains from such material is very difficult to remove.
Currently, no one is surprised by a wide range of products from printed satin. This material also includes satin-jacquard. The front part of the fabric consists of thin threads, which give the material smoothness and gloss.
This is an atlas, which has no inside, it is equally beautiful from all sides. Just on one side of the drawing more convex, but on the other - indented. This material can be called two-sided.
This type of product is considered elite. The material has high strength due to the fact that there is applied double weaving of twisted yarn from cotton.Bed linen from this type of atlas is not crushed and maintains many washings, without losing its qualities. The natural fibers that make up the fabric make it very comfortable for sleeping.
The jacquard stretch, which is made of special threads that give it elasticity, is also in demand at the present time. Another type of atlas is duchesse. This is a very dense, but at the same time lightweight fabric. Atlas-antique has a textural surface due to the alternation of thicker and thin sections.
Products with embroidery - a great option accessories for sleep. The use of embroidery on satin allows for a long time to preserve the beauty of such products, because it will not wash off and will not disappear even after numerous washings. Kits are decorated with embroidery in such a way as not to cause inconvenience to people who are resting. Duvet covers and pillowcases are decorated completely, and the sheet has decoration elements only at the edges.
Satin pillowcases and duvet covers are supplied with different types of clasps. Russian manufacturers use buttons, while Westerners use lightning.
How to choose?
When choosing bed linen, you must first focus on the size of the mattress, pillows, blankets, and also take into account the taste preferences of family members.In addition, it is important to be able to distinguish natural material from a fake. If the atlas is not fake, it has a glossy front part and a matte inside, does not stretch.
Satin bedding is available today in several versions. These are one-and-a-half, double, eurosets. Usually in the sets can meet two types of sheets: simple and elastic.
If you take a set with a usual sheet, then you can, of course, tuck it under the mattress, but it still moves and slips. Therefore, the most convenient are sheets with elastic bands. Their only drawback is that such products are hard to iron.
Care
After washing and drying, the clothes are stored in such a way that other objects are not pressed on it and no creases remain. Volumetric shelves, wardrobe or special containers are suitable for storage. Satin underwear should be protected from moisture and sunlight. You can not store it in vacuum bags, as they will leave creases.
Before the first wash you need to pay special attention to the structure of the fabric. The modern atlas has other inclusions, and the washing method depends on it. Care tips and advice can be found on the product label.
Before washing products from satin, you must first dunk.
Machine wash is prohibited, only manual washing is used, which uses mild detergents. Satin underwear is not twisted, so as not to deform. Sometimes vinegar is added to preserve the brightness of the tissue in the rinse water.
Dried such clothes, wrapped in cloth, and ironed with a slightly warm iron, without the use of steam, and through a slightly damp cloth or gauze.
If there are hard-to-remove stains, then such a thing is better to dry clean.
Customer Reviews
Reviews of satin bed linen are ambiguous: there are both positive and negative. Many people who use bedroom sets made of satin, note their following positive qualities:
beautiful and sophisticated appearance, the material is very pleasant to the touch;
in summer the laundry pleasantly cools
And the negative aspects include the fact that the satin underwear is very slippery, it is difficult to care for him. But at the same time, any beautiful thing requires complex care.
Products from satin always speak of good taste and material wealth of the owners. If you properly care for such linen, it will long please the eye with its appearance.In addition, beautiful sleep kits are also a great gift for family and friends.
How to care for the atlas, see the next video.