Tips for choosing baby bedding for a boy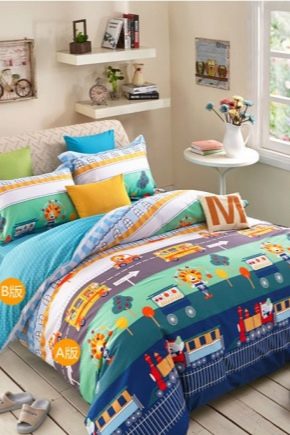 Baby sleep should be healthy and sound. In order to provide a beloved son with proper rest and recuperation after a long active day, it is necessary to take into account a large variety of various factors. Among them are fresh air in the room, silence, a comfortable mattress and, of course, high-quality and comfortable bedding.
Requirements
Not every fabric is suitable for baby bedding. The material must meet a variety of sanitary and hygienic requirements.
Security. The fabric should be cotton without synthetic impurities. Paints must be made of environmentally friendly raw materials without impurities of toxic components.The low quality of the fabric can signal the appearance of a foreign chemical smell, which is felt immediately upon opening the package with the goods. In addition, you should also abandon the purchase if the paint remains on your hands. Most likely, when coloring material were used low-grade dyes, which are often unsafe for the life and health of the child.
Hygiene. The main parameter that should distinguish baby bedding from an adult is the possibility of washing at rather high temperatures without the risk of shrinkage and deformation.
In addition, the canvas must withstand hot ironing. Only in this way can you achieve maximum disinfection of bedding.
Hypoallergenic. It is important that the material contains no substances that cause the child allergies, which can manifest as rashes, shortness of breath, cough, conjunctivitis and rhinitis.
Hygroscopicity. The material intended for sewing children's underwear should absorb sweat, saliva and tears well.
Air permeability. The fabric must be breathable, otherwise during sleep there will be a greenhouse effect, which often leads to overheating of the baby.
Antistatic. Baby clothes should not be electrified when in contact with the body and hair of a child. The use of matter that can accumulate static electricity is strictly not allowed.
Bed linen should be pleasant for the body. Optimally, the fabric was soft and silky.
Fabrics
Most often for sewing baby bedding use:
flannel;
satin;
ranfors;
percale;
linen.
Let's stop on the most popular types of fabric.
Linen
This is a 100% natural and environmentally friendly material. Its distinguishing features are durability, strength and increased breathability. In addition, flax heats well and quickly, retains heat well, which is especially important during the cold season. At the same time, in the heat of the fabric, on the contrary, it remains cool and breathable, which ensures a high level of comfort of sleep.
It is noteworthy that in the structure of flax there is a special antiseptic substance - silica, which prevents the formation of pathogenic microflora. And, as a result, your son will be reliably protected from the appearance of fungi and other dangerous bacteria.The fabric is characterized by good wear resistance, because even after numerous washings it does not turn yellow, and over time it becomes only softer.
Calico
This is a cotton fabric obtained by weaving thick thick threads that can be seen even with the naked eye. The main advantages of the material are its density, resistance to abrasion and wear, hygiene and hypoallergenicity. An important advantage is the low cost of such a fabric, and therefore baby bedding, sewn from it, is affordable for most families.
There is one feature that should be taken into account when buying a kit for sleeping: according to the existing state-of-the-art standards in the countries of the former USSR, the coarse calico consists of 100% cotton, while in China and Pakistan the standards allow the presence of impurities of synthetic fibers, which can reach 15%. This should be considered when choosing products of a particular manufacturer.
Flannel
This choice is most often made by the mothers of the smallest boys, because the material is very warm and at the same time soft. The canvas is a cotton fabric covered with a small fluffy pile.
It should be borne in mind that such material is not recommended to be washed at a high temperature and to rub, otherwise the pellets are formed on it.
Satin
Another cotton canvas. Its front side has a pronounced glossy shine, so the clothes are most often used for sewing night sets for teenage boys.
Ranfors
A very dense fabric of 100% cotton, which is not wrinkled and abraded during use. The material is completely hypoallergenic, it passes air, but at the same time absorbs well and retains moisture.
Percale
Most often this material is used for the manufacture of blankets and pillows due to its density. However, despite this structure, the material remains rather silky, breathable and very pleasant to the touch.
Design
Choosing a shade of bed linen, it would be nice to take into account the recommendations of psychologists. Experts say that you do not need to buy children clothes with bright patterns, no matter how beautiful and stylish it is: in such a bed the baby will not be able to sleep, he will become excited and restless. In addition, each color has a certain effect on the psyche.So, light shades of yellow have a calming effect, help relieve emotional tension and relax. It is better to give preference to such fabrics if your son is too active.
Blue has a similar effect: it calms and promotes the speedy sleep of a child. If your child has vision problems, it is better to choose for him a set in white and green tones. It is proved that these colors have the most positive effect on human vision.
But for the little ones it is worthwhile to dwell on the shades of pastel: coffee, chocolate or caramel. It is believed that this color solution stimulates the appetite.
As for the drawing itself, its choice depends largely on the child's age and preferences. However, for the youngest it is better to do without a pattern at all, or to choose a fabric with a small unobtrusive print.
Children under 3 years are most often interested in "children's" drawings: funny little animals, heroes of favorite fairy tales, houses, berries or some toys known to everyone. Very popular kits with cars or in marine style.
It is important that the canvas was not too variegated, but at the same time, positive and bright.
Slightly older boys (from 3 to 7 years old) already have certain hobbies - they can be reflected in the sets for sleep. For example, on a sheet and a blanket can be depicted favorite movie characters, as well as cars, airplanes, rockets, football, balls, or some kind of exotic animals.
Keep in mind that if you decide to purchase a set depicting cartoon characters, then try not to start from the generally accepted patterns, but take into account the interests of the child himself. For example, for one, the idol is a small robot Valley, for the other - funny ninja turtles, and still others dream of going to the city of wheelbarrows to spend time with Meter and Lightning McWin. Popular are also Spiderman, Batman and Superman.
Even on bed linen should not be objects associated with aggression. Not the best choice would be monsters, skulls, vampires, as well as sharp and cutting objects.
When a child goes to school, it is worth entrusting the choice of bedding design to the boy himself. In this way, parents will be able to show their growing up son that they take into account his opinion and thereby increase the child's self-esteem.
Regarding the size of the linen, it is better to buy 1.5 - or 2-bedroom sets,even if the mattress is designed for one child: younger boys often turn over in their sleep, and if the laundry is too narrow, there is a high probability that in the middle of the night your son will be sleeping on the mattress.
How to sew a sheet on an elastic band with your own hands, see the next video.