Ranfors bedding: features and tips for use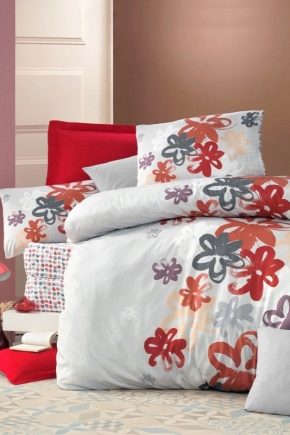 The material called "ranfors" is known in modern everyday life recently, but bed linen from it has long been no longer a novelty in the textile market. The fabric is better known as equal density calico, but it greatly surpasses it in quality characteristics.
What is the material?
Seamstresses and manufacturers of textile sleep kits also know ranfors as maxiforce or cottonforce. All this is a natural cotton material, distinguished by high strength and extraordinary practicality.
Basically, the designation of ranfors can be found on the tags bedding imported. The fabric is ideal for use in this version., because it is cramped, dense and long-lasting pattern. All these advantages of the ranfors are similar to the coarse calico that is more familiar to us. But it is, rather, not identical matter, but its improved version.
Ranfors is distinguished by a thinner and more twisted thread in the weaving and an increased density. Due to these qualities, the price of the fabric is slightly higher than on less durable counterparts. In practice, this is fully justified during the operation of bed linen. All components of the kit for a long time retain the original softness, smoothness and color.
According to international standards, one centimeter of ranfors should have 50-60 threads. If we compare this indicator with a calico, then its density is 42 threads per 1 cm. In addition, the threads in ranforce are twisted more strongly, which ensures its higher wear resistance.
It is useful to know that manufacturers according to technical requirements are not forbidden to add a certain percentage of polyester to ranfors natural fibers (in a ratio of 80% cotton to 20% polyester). As a rule, this should be indicated on the label of the finished product. When choosing a linen should first pay attention to the composition of the fabric.
Persistent dyes can be applied to the ranfors, as well as on any cotton fabric. This opportunity is used by manufacturers of bed linen, creating a variety of designs that combine different shades, patterns and patterns. There is no need to fear that a bright and beautiful kit will noticeably fade over time.
Merits
The list of positive characteristics of the ranfors pleasantly surprises and disposes to the purchase of linen sewn from this fabric. With so many advantages surprisingly complete lack of deficiencies in the material. Bedding sets of calico improved modifications are different:
strength and resistance to tearing;
wear resistance, which is ideal for everyday active use;
the duration of preservation of the original attractive appearance;
ability to withstand over three hundred wash cycles in automatic mode;
soft and pleasant tactile sensations in contact with the body;
surface smoothness and minimal abrasion resistance;
hygroscopicity: the fabric has a feature to absorb moisture in an amount equal to 1/5 of its own weight, while it dries instantly, leaving no chance of dampness and discomfort in a dream;
thermoregulation - an important quality for the fabric, which serves as bed linen for the whole night in different seasons;
breathability, with an increased density of weaving, natural fibers have an excellent ability to pass air;
the ability not to accumulate dust and static electricity in the fibers;
hypoallergenic, suitable for prolonged contact with sensitive skin;
color fastness, the fabric is not subject to loss of color by moulting and burning out;
minimum maintenance requirements;
ease of washing, no need for ironing;
availability on sale and low cost in comparison with satin kits of similar quality.
Due to its unique natural composition, increased softness and pronounced smoothness, the fabric is ideal for sewing all kinds of sleeping sets - one and a half, euro, double and for the smallest consumers.
Care
Take special care measures for ranfors is not required.
Matter is easy to wash and iron if necessary. In the process of active use of the web, there is no loss of the original quality characteristics and a presentable appearance.
Cotton cloth is resistant to heat treatment during washing and ironing. Very hot iron will not damage thick fabric. But it is desirable to iron the canvas in steam humidifying mode or slightly damp.
It should be remembered that prolonged drying of the kit in direct sun is undesirable. Matter can acquire yellowness and lose its original strength.
In general, it is an ideal kit for use in home bedrooms, children's camps, sanatoriums, boarding houses and hotels.
Selection tips and reviews
In operation, bedding from ranfors are not inferior to calico and satin. Sleeping in them is comfortable and enjoyable at any time. Thermal properties of the fabric allow you to lay it on the bed in the heat and during the heating season. In any case, it shows itself from the best sides. Sets from ranfors are most often purchased for giftsas the bright and attractive design disposes to purchase. With such a practical gift, it is appropriate to appear on an anniversary or any other event of close friends or colleagues. Not a single married couple or single person, who appreciates comfort, will refuse from high-quality linen.
Lovers of a little longer to soak in bed celebrate the extraordinary smoothness of such clothes. The perfect slip prevents friction on the fabric and the appearance of unpleasant to the touch and appearance of the pellets.
In the collections of bed linen of famous manufacturers there will surely be a set for every taste. and interior living and hotel space. When buying, experienced consumers are advised to pay attention to the labels on the kits. Quality linen always contains tags with information about the manufacturer, composition, recommendations for storage, care and certificates of product quality. Especially if you plan to use underwear in the nursery or facilities for children.
There are many who want not only to buy, but also to fake the popular ranfors. In underground workshops, unscrupulous manufacturers under the guise of ranfors bed linen produce low-quality products. As a rule, the labels on such kits do not contain the necessary information or are completely absent. Fake duvet covers, pillowcases and sheets quickly lose their original colorful look. In the heat of the matter does not absorb moisture emitted by the skin, causing diaper rash, irritation and discomfort.In the cold season to sleep on a slippery cheap fake of the ranfors is no less unpleasant than in summer.
Distinguishing a copy from the original is easy for the price and a preliminary examination of the fabric. It is very noticeable in the light that its density is much lower than it should be. And smoothness, rather, is only visual, caused by the imaginary brilliance of the canvas, which ensures the presence of a large percentage of synthetics in the composition. You should refrain from such a purchase. This kit is not able to provide you with nothing but frustration.
Natural ranfors is an economical and practical option for tailoring bed linen, comparable in quality to expensive satin. The product from ranfors is inferior to satin only in price. What can not like the rational hostesses and prudent entrepreneurs.
On how to choose bedding from ranfors, see the following video.