Design options stretch ceilings in the nursery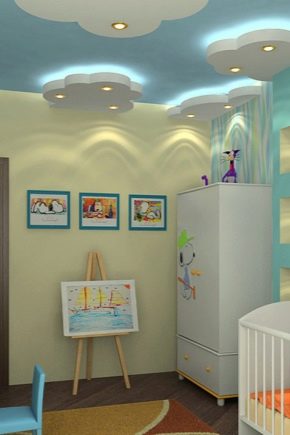 Design features
This option, although it is somewhat more expensive, is still popular because of the ability to "breathe" for the ceiling. In addition, the material is a worthy platform for self-expression of the customer.
Advantages and disadvantages
Of course, this does not apply to complex multi-level ceilings, but they usually do in high rooms.
This statement is especially relevant if the customer wants not just a ceiling, but a true work of art - in several levels and with a bright photo printing.
Kinds
If we talk about fabric solutions, they are usually more of the same type, however, they are valued for the naturalness of the transmitted patterns, especially since such a material disperses the light evenly and very softly.
Design
This can be realized with the help of the photo print already described, and some of them get out of the situation with the help of special night-light projectors, but only a multi-level stretch ceiling provides all the necessary conditions for the credibility of the picture.
How to choose?
Successful examples
The presence of a fairy tale beside will definitely enhance the mood of the child and make his view of the world positive.