The subtleties of the design of narrow corridors: how to visually increase the space?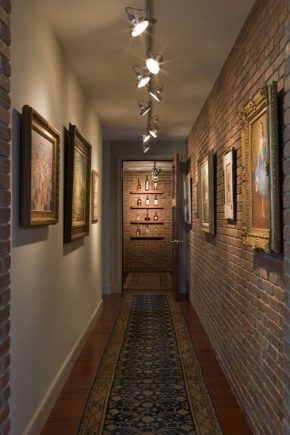 Special features
Different styles
And in the same way, modern futuristic high-tech or production loft in a narrow long corridor can be represented in the style of minimalism, with the desired directionality and color gamut.
Ideas and solutions
It can be interesting to beat the interior, add elements of decor,visually enlarging the space - a mirror, an arch leading to the hall, curbs and door trim panels of one palette, creating a room edging.
But the hallway is the place from which the house begins, it is the threshold of the whole interior as a whole.
The separation can be arranged with a molding or border, it will decorate the corridor in the event that you do not plan to furnish it with furniture.
A rack with open shelves for a collection of works of art or objects of your own creativity will look good along a free wall. The rack can be replaced and a long, full-wall, narrow console table.
How to make?
Wallpaper
Decorative plaster
Boiserie
Often the lower part of the wall of a narrow corridor is revetted with laminate, protecting the wall from pollution. In place of the laminate will be expensive and solid look boaser. To give completeness to the appearance of the corridor, supplement in the same design the door trim or the edging of the arch.
Decorative rock
In the latter case, a plaster decorative stone can completely decorate one of the empty walls or the space between the doorways.
How to visually expand?
Lighting
Mirrors
Panoramic drawings
Decor items
Options in the interior