Design halls in the "Khrushchev"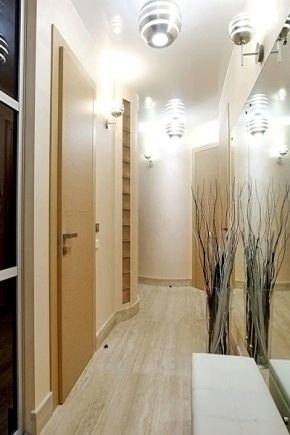 Special features
Fortunately, you can change this layout or change the design to avoid its negative distinctive features.
Usually several doors from other rooms go out into such a room, and it is best if they match in color with each other and harmonize with the shade of the walls. On the other hand, some doors are preferable to remove altogether and build an arched opening.
To reduce the space occupied by furniture, they prefer hangers with shelves or mezzanines.
Where to store things?
Consequently, even if you took into account all the negative features of the hallways in the "Khrushchev", discussed above, pay special attention to the furnishing of this place.
A huge variety of models includes lighting elements to highlight the storage area of ​​things and shoes.
Compared to normal storage, you will never lose your keys in this way.
Room dimensions
How to equip?
The style of this room is directly connected not only with the design, but also with practicality, and this plays a significant role in the corridor.
You should not be afraid of light shades in the hallways: yes, they are rather branded, but they visually increase a small area.
Finish
At the stage of finishing it is important to remember that the entrance hall is the dirtiest room in the apartment, therefore, the materials used should be the least branded and have the maximum
In contrast, the laminate is more resistant, but it is afraid of excess moisture.
Only the general harmony of all surfaces will create a beautiful and unique interior hallway.
How to visually enlarge?
Options in the interior