Ikea hallways in a modern interior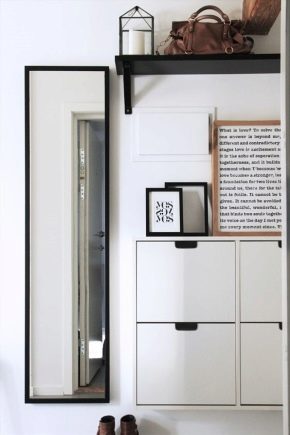 Special features
The buyer himself collects purchased products, saving on the purchase price.
Range of models
Ikea presents a wide selection of different options for the hallway room. There are both versions presented in the classical style, and modifications made in the modern style.
Shelves and hangers
Shears and galoshnitsy
Cabinets
Cabinets from Ikea differ in their strength and durability. There are models with or without a mirror.
Curbstones and poufs
Stylistic ideas
Modern style
In addition, there is a holistic version of the hanger and thumbs, it is very convenient and will look the same.
Classic style
Country music
High tech
Color spectrum
For those who have small children at home, dark furniture will be more beneficial to use than light furniture, since it is not so branded.
Design
Tips for choosing
Also, when choosing furniture, Ikea gives you the opportunity to get a fully assembled interior of the hallway, without thinking about which parts and products will be best combined with each other.