Choosing forged hangers in the hallway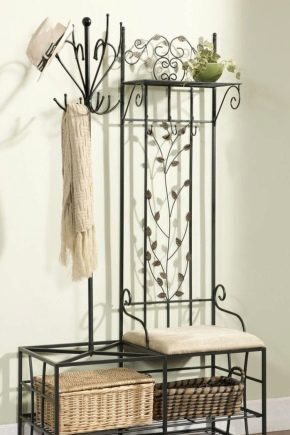 Design features
Forged models are really compact, because they lack those massive panels that are famous for products from chipboard. Thin curved rods do not represent visual gravity, even if equipped with stools.
Advantages and disadvantages
Speaking of manual work, it is impossible not to touch on the topic of the cost of this product. A quality product can not be cheap, and therefore not available to everyone.
Kinds
Wall mounted
It must be said that each of the varieties presented can be supplemented by other materials besides iron. So, the shelves can be made of solid wood or furniture board, as well as durable plastic with imitation of natural textures.
Outdoor
Despite the stability of the structure, it is recommended to install it near the wall, thereby avoiding a fall due to the advantage.
How to choose?
The good faith of a craftsman or a company that produces forged models is one of the most important aspects of a good choice. You should not trust questionable suppliers in pursuit of a seductive price, because high-quality forging cannot be cheap.
Examples in the interior