Wall hangers in the hallway - an important detail in the interior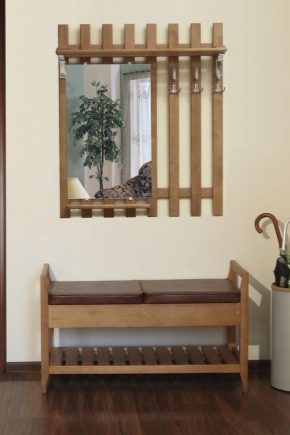 Features and advantages of hinged products
This hanger is also useful for those who have a wardrobe. She will help out in case of the arrival of a large group of guests. Also, it will allow to dry the outerwear after accidentally falling into the rain or snow.
Kinds
Vertical
Very popular and options upholstered in artificial or natural leather.
Horizontal
Designer
Such a product can be used not only in the hallway, but also in the nursery.
With additions
A modern range offers hangers for the hallway for every taste and budget - from the simplest models with one shelf to elite complexes, including all useful additions.
Alternatives
Additional elements
Such options are suitable for spacious hallways and allow you to keep clothes, shoes and various accessories in perfect order.
The form
Purpose
Dimensions
Materials and accessories
Trendy colors
Please note that when buying such a product it is worth remembering about the margins of this color.
The most fashionable tone for modern interiors is "wenge".
Brands
Ikea
For those who want to decide for themselves how many hooks and at what distance to attach to the wall, there are some strong hooks.
"Leroy Merlin"
"Stolplit"
Sheffilton
Design
For those who prefer luxury in everything, refined forged products are created, as well as leather models with a four-sided tie. The choice depends only on the personal taste and style of the room.
Styles
At what height to hang on the wall in the hallway?
The recommended height of the hooks themselves is from 120 to 170 cm.
How to choose?
Pay attention to the location of the hooks. If there are children in the family, choose models with their multi-level arrangement.
Beautiful and stylish ideas in a modern interior.