Mirror with a shelf in the hallway: features of accommodation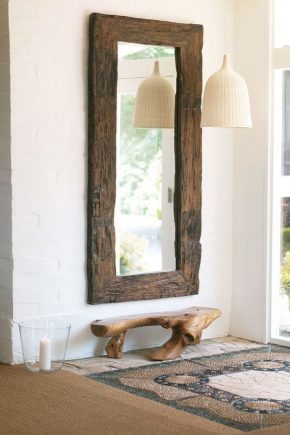 Special features
Models
Wall mirror with shelf
Do not hang the shelf too high or block the mirror space below.It is better to place it at the level of 70-100 cm from the floor.
Mirror over the cabinet
Heating Radiator Disguise
Mirror with shelf and hanger
Corner mirror with shelf
Table and mirror
Before such a table you can place a soft small stool, ottoman or swivel high chair. This will make cosmetic procedures more convenient. In the console drawers can be stored cosmetics and other trifles.
Accommodation options
Floor and wall models
Thanks to an interesting design, playing with light and decor, even the simplest classic options can get an unusual and stylish look.
In the hallway the minimum suitable size of mirrors should be at least 50-60 cm along the narrowest side or in diameter.
Full-length mirrors
Models combined with other furniture
Making your own hands
Remember that the mirror must be sufficiently well lit, otherwise it will not be able to perform the function of decoration and visual expansion of the space.
Advantages and disadvantages