Features of photo wallpaper on the door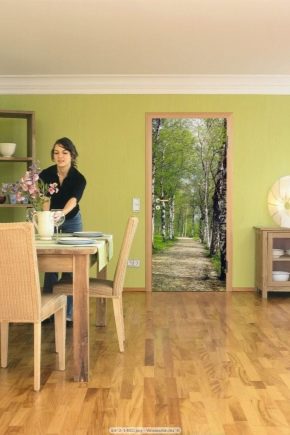 Characteristic
Interior doors, decorated with photo wallpaper, as if opening the door to another reality, depicting tropical jungles, blue sea or endless outer space.
Dimensions
Images
Wallpaper with the image of flowers - the best choice for the French Provence. Images of palm trees, tropical plants and wild animals will harmoniously fit into the tropical style.
How to choose?
Kinds
Photowall-paper on a self-adhesive basis impress with stylish and bright appearance. On high-quality products, the image looks as realistic as possible. In addition, this option is practical and reliable.
Modern clients have the opportunity to decorate their premises with high-quality copy of the murals. You do not have to pay a lot of money. Photowall-paper under a fresco - a stylish and expressive element which will create the special, bewitching atmosphere in the apartment. Shops finishing materials offers a wide range of images of various subjects.
Use in the interior
Kitchen
In order to decorate the kitchen, fit all sorts of scenes. Especially organically look: flowers, fruits and landscapes, which depict flowering fields and meadows. When choosing the subject of the picture, consider the color scheme in which the room is decorated, as well as the orientation of the style.
Living room
In the living room is often found wallpaper like "the door to another reality." On the wallpaper depict ajar doors that overlook the garden, on the lawn or another colorful location. In that case, if the living room is a passage, with a stylish image you can disguise the door.
Bedroom
Most often, in this part of the house on the door are placed wallpaper on which flowers flaunt.
Children's room