Decorative bricks in the interior of the corridor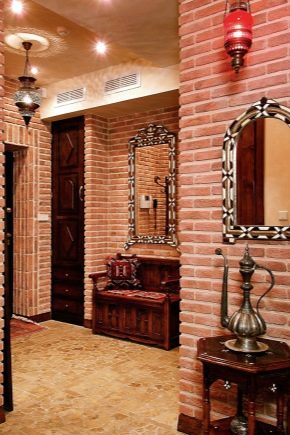 Pros and cons of use
But there is such a brickwork and disadvantages. The main one is that some types of this coating are quite fragile and one must be extremely careful when laying them.
Species
Clinker tiles
This type of decorative finish is perfect for facing fireplaces and stoves, if they are installed in the hall, as it is heat-resistant.
From cement
Recently, to improve the performance properties in the production of cement bricks, manufacturers have been adding various polymers, marble and granite chips.
Gypsum stone
Flexible tile
Panels
Room decoration methods
Styles
Color spectrum
White brick will give a more noticeable effect, if you choose it with a glossy surface. In addition, the light colors are refreshing, making the interior of the closed space of the corridor easier.
Imitation options
Hallway Design Examples
Decorative bricks can decorate even the door, thereby concealing it, merging into one with the wall.
Beautiful ideas in the interior