Drywall ceiling design in the hallway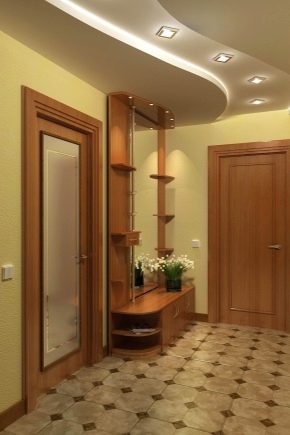 Advantages and disadvantages
Ceiling options
The installation of the plasterboard construction begins with a preliminary design choice, which should harmoniously emphasize the entire interior of the room.
Of course, a plasterboard decorative ceiling can be installed in hallways of any size,but its form and method of decoration will depend on the area of ​​these rooms, so for small corridors it is best to choose light colors of the ceiling.
At first glance, the step scenery from plasterboard may seem heavy, but thanks to the correctly chosen colors they will harmoniously fit into the hallway look and become almost weightless.
It is also important to take into account one important point: no more than three shades can be used on the ceiling.
How to change the size of the hallway
If the multilevel system is painted white, then the decoration of the upper surface will turn into a weightless space, and at first glance, all its heavy massive details will smooth out smoothly, making the room visually high.
Ceiling and lighting