Modern hallway design ideas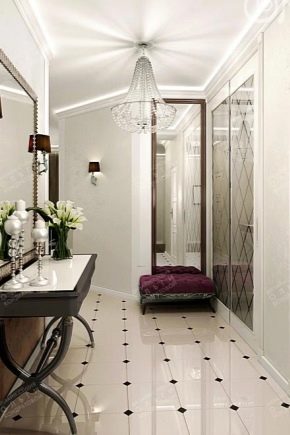 Features of design
The entrance hall in a private house is not shaped the way it is in apartments, because it is required to take into account both the temperature changes at the entrance, and the size of the room. It is not standardized, each developer chooses the size of individual premises at its discretion.
Important: originality here is good in moderation, and it is desirable to adhere to the same design as for other rooms.
At the same time, the area is also taken into account - no more furniture is installed than it is convenient for you to use, and therefore multifunctional products are more appropriate in the smallest rooms. Be sure to take care of artificial lighting, and if the walls and ceilings are very dark, choose as bright as possible lamps to neutralize this effect.
Popular styles and colors
Do not be afraid to create too light or very dark room, it is consistent with the canons of this approach.
For the implementation of niches in the minimalist corridor is used most often drywall.
Important: never hang shelves all the hallway, it is worth using only one or two, but as efficiently as possible.
Decoration Materials
Thanks to very dense textures, it is possible to cover almost all the imperfections of the grounds, and the ability to wash the wall will please any responsible owners.
MDF panels are somewhat more expensive, but they have an undeniable advantage that fully justifies the appointed price - it is respectable appearance and perfect environmental safety.
No paint is not able to mask the defects of the base, and therefore it must be perfectly smooth initially or specially prepared.
Never use natural carpet, which absorbs water too easily and starts to smell bad, quickly deformed.
We select furniture
It is recommended to supplement such furniture with a bedside table with reclining closed shelves.
When choosing at least one decorated forging product, the same design elements should be used by others.
Beautiful design solutions and ideas
For illumination it is worth using LED strips and single lamps. They allow you to create an unusually beautiful compositions.