Wall tiles in the hallway: unusual ideas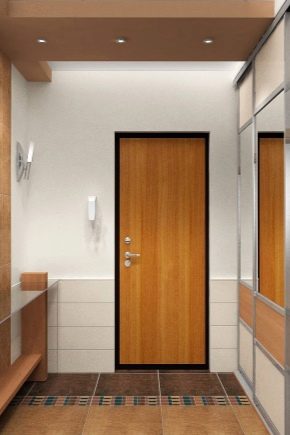 Types and features
All these data you can read on the packaging of the material.For washing the finishing material used various synthetic tools that can be aggressive and spoil the tile. To determine its stability, the material is labeled with the letters: A, AA, B, C, D. The degree of resistance varies from the most resistant (A) to the most unstable (D).
Materials
Corridors and hallways may be exposed to dust, dirt, and moisture. Therefore, facing these walls with ceramic tiles and ceramic granite will be the most suitable for these rooms. These materials are characterized by increased wear resistance and resistance to dirt.
Design options
Pottery
Ceramic tiles look very impressive in combination with Venetian plaster, which imitates natural stones.
Stone tiles
Artificial stone
Other advantages are durability and environmental safety, as it is made from gypsum.
Clinker coating
How to choose?
When choosing a color, consider the overall stylistic decision of the interior. If your interior of the corridor is designed in a calm, natural style, you can purchase tiles "under the tree".For eco style you can choose tiles of beige or green shades, but not monophonic, but with a natural ornament.
If you like to impress guests, you can purchase unusual material and make, for example, a hallway with a blue wall of tiles "under the skin."