Design a hallway in a private house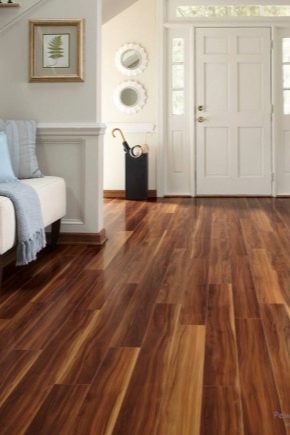 Each centimeter of it should be useful to the owners, because the area is not so large as to be exchanged for extra decorating attributes that will only clutter the space.
Design features
Narrow and long corridor
A small hallway must be well supplied with lighting.
Wide and small entrance hall
Hallway lounge
Tambour
Selection of materials
Since dirt collected from the street is often collected in the hallway, it is necessary to finish it with easily washable materials.
DIY interior decoration
To properly equip the hallway, you must first measure its length and width, ceiling height, select the necessary furniture, arrange it on the sketch, as you would like to see the arrangement in the room itself.
Walls
An interesting option is the finish, in which the panels sheathe only the lower part of the wall somewhere to the middle, and the top is decorated with wallpaper or painted. The joint is closed with molding.
For the hallway of a private house are relevant natural colors, wood decoration.
Floor
Ceiling
Choice of furniture
Modern ideas