Chicken coops: blueprints, construction and landscaping tips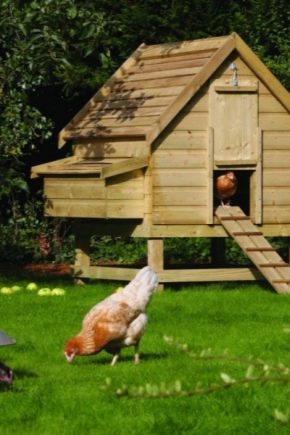 Requirements for construction
From the very beginning it is worth choosing the optimal approach to lighting the chicken coop - most often the door is facing south-east.
Kinds
Best of all, when the selected area is in the penumbra, which is created by trees or a special canopy.
Projects
If necessary, do not deviate from the typical schemes.
A place
And one more thing - you need to provide a convenient approach for yourself in order to use the building without undue difficulty.
Dimensions
Materials
In order to eliminate the destruction of the structure under its own load, special supports are placed inside, which will take the main load.
When choosing this or that material, you should always take into account that each of them has positive and negative sides. And a deeper understanding of this topic is possible if we take into account the characteristics of a particular part of the chicken coop.
To prevent rodent aggression, it is necessary to sheathe walls insulated with foam plastic with protective plates. Another option is mineral wool; it's a little worse than foamhowever, it is of no interest to mice and rats.
Building
Foundation
If, however, there is no other choice for any reason, it is necessary to choose not wooden, but steel piles.
Walls
Roof
Given the inevitable contact of the roof with atmospheric moisture and precipitation, it is necessary to treat all with antiseptic preparations. Additionally, the treatment is flame retardant. These substances can create bad odors. Therefore, before "settling" there the birds are waiting until the chicken coop is thoroughly dry in the sun. Hot rays will quickly remove all harmful components from it.
Floor
How to heat?
It is also worth considering that it is not always possible to do with a single heater. And if the device turns off, the air will cool down in a short time.
Rules of the internal arrangement
Where exactly to put the perch is impossible to decide in advance and for all occasions. Only the builders themselves know where there is enough free space. But for the sake of saving electricity and the health of the birds themselves, it is necessary to prefer areas around the windows.
As for homemade feeders, it is recommended to give preference to polymer pipes for sewage, which are arranged in a row along the wall.
Ventilation
Given the considerable intensity of the bad smell in the room where chickens are kept, it is advisable to use special fans.
Lighting
Beautiful examples