How to build a chicken coop for 10 chickens?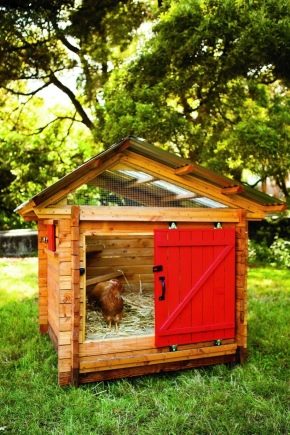 Kinds
Projects
For example, for 3 chickens will need to allocate free space in 1 square. m (for sanitary standards). If we draw an analogy, then we can come to the conclusion that for 10 birds you will need to make a chicken coop with a size of no more than 2x2 m.
Where to place?
Do not expose the house directly on the ground. Remember that this construction should have a sufficiently strong base.
Selection of materials
It should be borne in mind that the walls of wood must be made of considerable thickness. In this case, they will not freeze if you use the house in the winter season. The wall width parameter should be about 20 cm.
Stages of construction
Foundation
It is possible to build a tree house from a tree only after it is completely set. But it should not be forgotten that the size of the prepared area must necessarily correspond to the dimensions of the future "house" for chickens.
Walls
In addition to boards, it is also possible to install sheets of plywood or wall paneling. The perfect material for building the walls of the house is a special adobe brick. As mentioned above, mineral wool will be the ideal insulation in this case. It is permissible to lay clay combined with straw.
Roof
How to equip the inside?
Inside the chicken coop it is worthwhile to arrange such a useful construction as a dust bath. For its preparation, it is necessary to take separate containers and pour sand, ashes into them. Bathing in such baths has a positive effect on the plumage of birds, and also allows you to get rid of many parasites that usually infest on birds.
Useful tips
If you notice that the chickens began to behave too aggressively, and also began to pluck out feathers from each other, then you should lower the level of intensity of artificial lighting slightly. Thus, you will be able to calm the animals.
Successful examples