Features of building a winter chicken coop for 10 chickens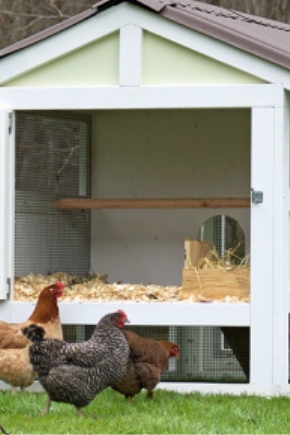 Design
It is necessary to plan how the room will look inside, because for the hens it is also necessary to organize feeders, drinkers, perches, ventilation, lighting, heating.
When making a chicken coop, you need to consider that you still need a place for walking. The area of ​​the enclosure should correspond to the size of the room. For example, if the width of a bird house is 2 meters, then the dimensions of the walking yard should be 2x6 meters.
Location selection
The size of the construction site is selected based on the size of the house. The area under the coop must be made as even as possible. To do this, you can remove about 30 centimeters of land. In addition, it will not allow the grass to grow under the structure. After that, a mound of gravel about 10–15 centimeters thick is made.
Materials and tools
Important! It is categorically impossible to use iron in sheets for building a bird house. It freezes over and condensate accumulates on its walls. The result is a cold, damp and completely unsuitable for the birds coop. Not suitable for bird houses and materials with a strong specific smell.
And also it is important to pay attention to the finishing, so that the chickens could not reach the insulation. The floors are insulated with expanded clay.
Building
The base of the floor must be attached to the pillars of the foundation. But before that, it is desirable to put ruberoid on the base. Even a single layer of this material can improve reliability. When all this is done, you can sew the floor boards. To protect the floor from rot, you can soak it with special solutions.
Insulation and heating
The easiest way to heat a chicken house for 10 chickens is incandescent bulbs.
Successful examples