How to make ventilation in the hen house with your own hands?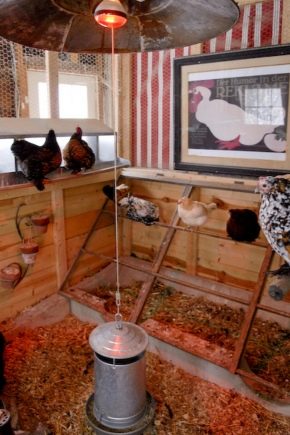 The products of vital activity of the bird emit ammonia vapors, which extremely negatively affect the health of chickens. Therefore, it is worthwhile to consider in more detail the options for the construction of ventilation and how to install it in the hen house. First of all, it is necessary to ensure the proper functioning of the ventilation system.
What is ventilation for and what is it?
It is impossible to achieve the desired efficiency of the ventilation system if the room is not kept clean. Poultry waste emit so many vapors that with caustic fumes it is sometimes impossible to cope with forced extraction with powerful fans.
Device and species
Natural ventilation
In the cold season, the use of such ventilation will not be very profitable, as in this case, the cost of heating the chicken coop will be added. In the summer, on the contrary, windows are not only an element that ensures the flow of clean air,but also a source of natural light. Chickens, as it turned out, prefer to rush only during daylight hours.
Supply and exhaust system
Some poultry farmers put the fan in the exhaust pipe, which helps to activate the movement of air masses.
Mechanical or forced ventilation
This method of airing can be very expensive, so it makes no sense to apply it on private farmsteads. The effectiveness of simple methods of ventilation is no worse.
Professional Tips