Winter chicken coops: projects and construction process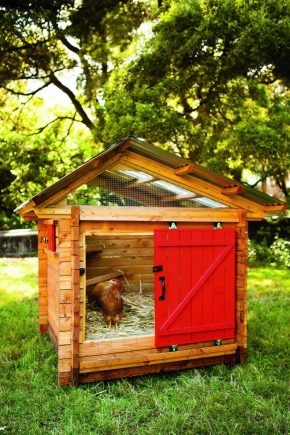 Special features
In the conditions of a high-quality winter coop, an optimal and comfortable temperature must be maintained. You can not do in such a building and without suitable lighting. Together with not too high perches and separate places for laying eggs, there are very favorable conditions for the birds to live.
Requirements for construction
These requirements are most important in the construction of a winter chicken coop. In addition, we must not forget that inside the building itself should be as calm, safe and quiet as possible. Choose for the construction of the coop a place on the site, which is located far away and is in a secluded corner.
Projects
Materials
For the base
For walls
For insulation
However, the use of such natural materials has a significant drawback - such products have a high coefficient of thermal conductivity, because of which they have to be laid very thick layers, and this is not always possible in the conditions of preparing the chicken coop for the winter.
How to build and insulate?
Preparatory work
If the soil on the site is clay, marshy or loamy, you will first need to carry out drainage work. If we neglect this procedure, the carrier basis of the construction will quickly become useless. As soon as you find the optimal place for the coop, you will need to start drawing up a drawing.
Foundation
In order to fill the foundation, it is recommended to use a mixture based on cement grade M500 and fine grain sand. These components are mixed in a concrete mixer or using an electric drill with a special nozzle. Filling of supports and grillage is allowed to start from any angle.
Walls
Roof
Billets need to be treated with antiseptics. Then the trusses must be put on the edge and attached to the harness located at the top of the frame. Between the rafters there should be gaps corresponding to the width of the insulation material. Next on the rafters put polyethylene, batten and roofing.
Floor
Warming
If you insulate the walls with materials such as polystyrene foam, polystyrene foam or styzol, then there is no need to install a vapor barrier.
Ventilation
Interior arrangement
All elements in the inner part of the coop should be fixed in such a way that they do not interfere with the approach to the nests in order to clean them. If you strive for maximum performance, you need to build the most reliable and thoughtful ventilation, as well as properly organize the light in the room.
Heating
Successful examples