How to build a goat shed?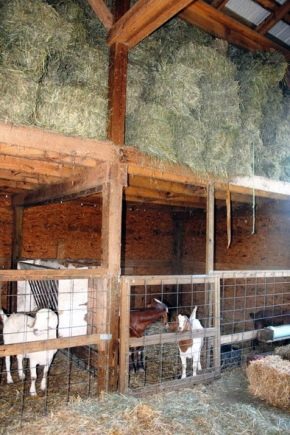 Requirements for the room
Cardinal differences here can not be found.
The peculiarity of the maintenance of goats lies in the fact that "boys" and "girls" live on the same territory. It will be necessary to make stalls of different sizes for young kids and adults.Such a device will make it possible to avoid conflicts that may arise between the younger generation and adult animals.
Project
Dimensions
A place
It is necessary to take into account the fact that goats are sensitive to different dampness, therefore, the insulation of the floor must be done very carefully. A waterproofing film is placed between the boards, the lags and the "cushion"; moisture from the ground should not get onto the boards in any case, otherwise after a few years you will have to repair the room.
Materials
It is possible to make a roof from a professional sheet, but it will cost more to cost, each year it will need to be treated with a primer and tinted. You will also need a sealant, polyurethane foam for sealing joints and seams, a mixture of seals for wood and metal.
How to do it yourself?
Foundation
Neighborhood with such "points" the most negative impact on the well-being of animals, as well as the quality of milk and meat.
With the help of a two-meter level and thread, it is easy to mark control points where the piles will be located. The distance between them should not exceed one meter. Dig holes, put a concrete mixer, prepare concrete. The posts (piles) are poured with mortar. After four days, it will be possible to mount a grillage on which the entire structure will be based.
Floor
All wooden elements are necessarily processed with primers so that after two or three years they do not have to reshape the floor. Between the lags are placed plates of insulation and waterproofing. Floor boards must be treated with linseed and painted.
Walls
In the walls make door and window openings. Doors must necessarily come off outside, then the room will have to spend less effort to maintain cleanliness.It is more reasonable to make windows from the sunny side, it will provide better air exchange. The windows must be located at least 1.6 meters from the floor level, then the animal will not be able to reach them.
Roof
Ventilation
Arrangement of paddock
Especially important stalls and feeders. They should be installed correctly.
Lighting
Stall
For males, the height of the partition should be more than a meter. Young individuals need only one square meter of space, more adults need two meters of square meters of habitat.
Feeders