Projects pigsty: what are, how to build and arrange inside?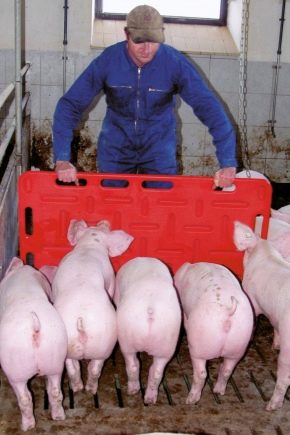 Requirements for the building and its location
The roof over the room can have one or two ramps. If you do not take into account the attic, the height of the pigsty is about 210-220 cm. If the roof is single-sided, the rear wall can be raised to a height of 170-180 cm, and the front wall can be raised to the recommended height.
Rules and conditions of livestock
As you can see, on average, breeding pigs requires about one and a half times more space.
Project and dimensions
50-100 goals
At 2-4 pigs
Selection and calculation of material
To determine the amount of roofing material, first decide what you will cover the roof. For slate there is the following formula: (Lc / bl) x (Bc / ll), where Lc and Bc are the length and width of the roof slope, and bl and ll are the width and length of the slate sheet, respectively. For tiles, the area of ​​the roof slope should be divided into the area of ​​one tile.
Required tools
Device and construction of premises
Foundation
Floor options
Do not forget about the litter, for it is most reasonable to use dry grass, sawdust or peat.
Walls and roof
Ceiling
Service windows and doors
The width of the doors in the machines is different for males and the rest of the herd: for adult males - 0.8-1 m, for others - 0.7-0.75 m.
Doorways for going out
Ventilation
For pipes providing fresh air, the cross-sectional area is about 30-40 cm2. True, you can make rectangular supply shafts. They are located at the top of the windows. Cover them from 3 sides with guide plates so that the fresh air goes up first and mixes with the heated room air. Cover the outer holes with a visor.
Lighting and water supply
Barn heating
Manure collection system
Interior arrangement
Machine tools
Feeding troughs
Also when the pigsty be sure to fence off the area for walking pigs, preferably south of the building. It is necessary for the perfect development of animals. Put there a few feeders, drinkers and walk your pigs.