White bedroom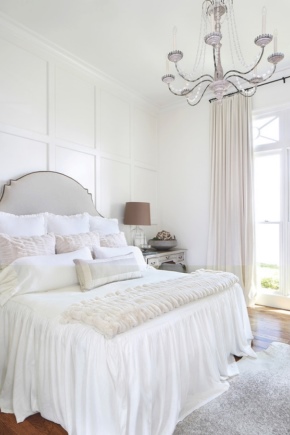 Features and benefits
This is especially true for those whose bedrooms are small, heavy due to the small space and poor lighting.
Design projects for the snow-white room
So, it is recommended to use a vertical pattern on the walls and a diagonal pattern on the floor, and as the furniture, choose something small in size and transforming.
Styles
The disadvantage of the classic style is that in all its glory it will be out of place in a small room, as it visually reduces the already small space.
White color is the most popular in this direction, and for the overall harmonious picture it is combined with other delicate and light shades - beige, blue, gray, brown. As bright accents, you can choose turquoise, blue, yellow.
Notable distinctive features of the decoration of the decor include mosaic tiles, stone and ordinary plaster, rough planks, as well as items with a marine theme: shells, chests, and ship details.
Since this style requires to hide from the eyes all the excess,it is advisable to put in the bedroom multifunctional furniture with built-in drawers. An unusual solution could be a podium with free space inside.
Wall, floor and ceiling decoration
The tree can also be used as a wall covering. In this case, it will perform the same functions as with the floor - it will bring "warmth", will focus attention and visually delimit the room.
In urban apartments, the use of laminate is most relevant - it preserves the natural pattern, while it is much easier to care for it.
Choosing and placing furniture
Large elements will visually reduce the already small room.
An excellent option would be multifunctional and transforming objects, such as ottomans with a box inside, a sofa with linen units in the pan.
This feature of white can be used if the apartment or house has an unusual finish on the ceilings, walls or floor. So you can give new life to vintage furniture, old mosaic parquet or fireplace.
Add bright accents
In the case of a small space, it is better to use calm combinations.
Natural shades are universal and most easily fit into the design. They are not as contrasting as bright colors, and at the same time do not create a monochrome effect, like black.
Lighting
It is not recommended to use different "temperature" of lighting in the same room.Moving from one range to another will irritate the eyes and create a messy environment. On the south side, you can choose a lamp with a cool shade, and on the north - warm ones.
Beautiful ideas in the interior