Turquoise bedroom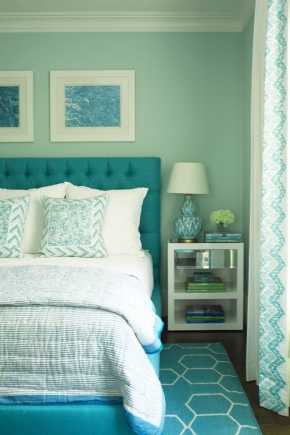 Special features
If you want to visually expand the space and make it more spacious, it is better to turn to lighter and more refreshing shades of turquoise.Such options are suitable even for small premises.
Shades
What colors does it match?
Styles
Furnishings
If you want to create a bright interior and place the light furniture on the background of similar walls, then it should be diluted with bright accents: decor and accessories.
Lighting
In the daytime, it is recommended to open the curtains so that a large amount of natural light bursts into the room. In such conditions, turquoise looks even more spectacular and more attractive.
Decor and accessories
Do not forget about decorative details: vases, flower pots, a framework for photos, rugs.
Interesting design solutions