Bedroom in black and white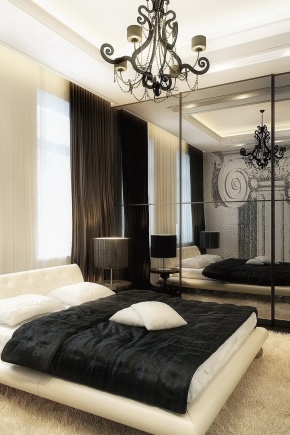 Features and advantages of the room
The interior in a similar color scheme can be attributed to surrealism, since it encounters two contrasting tones, and no detail goes by the wayside.
Styles
As a rule, white colors prevail in the minimalist bedroom.
Vintage style is characterized by the predominance of dark shades.
Finish
Floor
Ceiling
Walls
Which furniture to choose?
But do not think that single-colored bed and wardrobes will look boring in such a bedroom. This furniture can be effectively beaten with bright accents.
Add bright accents
Ornaments and drawings
Lighting
For rooms with low ceilings, you should not choose large hanging chandeliers, otherwise the room will seem even smaller.
Curtains, decor and textile elements