Choose a color for the bedroom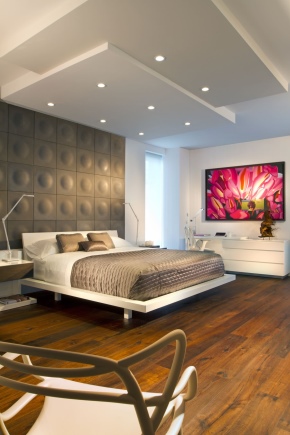 Which is better to choose the color: design tips
Blue and blue
Yellow
Green
Silver
Purple
Brown
Black
Beige and powder
Red
Whites
White is suitable for those who are accustomed to rest in the bedroom. Because I do not want to work overtime in such a bedroom. Designers rarely offer this shade to customers - in their opinion, it is extremely impractical.
The right combination of tones in the room
The combination of black and white gives energy and strength, and thanks to the simplicity of the combination, a soothing element is obtained, which may be absent with other combinations. This simple color scheme makes it possible to use large patterns.
The choice of two-color bedroom does not mean that you can not use other shades. The combination is combined with one bright color, and this may provide an opportunity to add touches to your favorite shade, be it red, yellow, cobalt blue or another shade. Using gray accents can help combine two contrasting colors together, creating a soothing effect.
The choice of colors according to psychologists
If red is a favorite color, you can use it in the bedroom, but be careful. Red stimulates and too much of this color can have an overwhelming effect.
White, wenge, cappuccino - colors that can create a soothing atmosphere. Lighter shades can also help a small room feel more spacious and airy.
Popular tones
Violet
Pink
Green
The walls are shades of green apple or lemon color perfectly complement any decor. If households love ultra-bright colors, then you can choose a shade of lime green in combination with purple or red.
Color palette and styles
Print Solutions
Rules for choosing a favorable color range
Fashionable interior design ideas
Blue and white colors are the source of inspiration in this room, and the unique chandelier gives the space a casual elegance.