Large bedroom design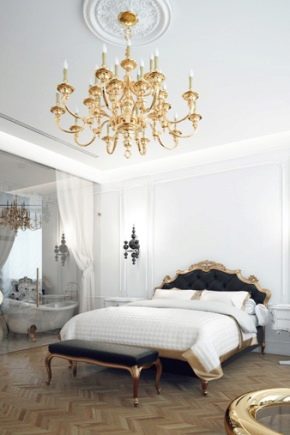 Making any bedroom is a responsible and painstaking matter. How to develop a design apartment with a large bedroom, you will learn from this article.
Special features
Large is the bedroom area of ​​20 square meters. m. Such a room can be found in an apartment with a total area of ​​45 square meters. meters In modern homes, the kitchen, as a rule, is already made large enough so that it can be made into a kitchen-living room. Therefore, in our time, even a one-bedroom apartment with a bedroom of a fairly decent size is not uncommon.
This bedroom will be used for its intended purpose, not performing the functions of the living room. In this case, it is possible to arrange only personal zones in it:
sleeping place;
boudoir;
bathroom;
dressing room;
workplace;
A place to rest or read.
When designing a bedroom should be considered:
the geometric shape of the room - using the design, you can correct the shortcomings, if any;
natural light - it must be taken into account when choosing the color scheme of the interior;
mutual arrangement of windows and doors relative to each other for effective zoning.
The layout and design of the bedroom is also influenced by the number of windows and the presence of various design features (niches or projections). They should not be ignored. They must be included in the design from the functional or decorative side.
Zoning
Zoning of any premises begins with a precise definition of the areas that need to be arranged. Then you need to decide what size they should be.
As for the bedroom, the first place to determine the location of the bed. Based on its location, you can think about the dressing room and dressing table. They can be located separately from each other or the boudoir can be placed in the dressing room.This arrangement will be relevant if you plan to organize a workplace and a recreation or reading area.
Accordingly, both working and reading require a lot of daylight, so these zones should be located near the window.
Zoning can be done in several ways:
decorative partitions of various materials;
curtains;
color and use of different finishing materials;
different levels of floor and ceiling.
Colour
Any large room allows you to use a wide palette of colors. However, for the bedroom, the color scheme should be chosen very carefully. The following colors are recommended as primary colors:
pastels of different shades;
all brown gamma;
blue and green.
Red, orange and yellow are the colors that tonic and give emotional strength. However, in large quantities they can be annoying. Therefore, they are suitable for decoration.
Blue, like blue, is considered soothing, but if you arrange the whole bedroom for them, it can also affect annoyingly. Therefore, it should be diluted with some neutral color, for example, white.It can also be used for decoration, for example, it goes well with yellow.
If you plan to use light shades as a base, then the decor can be anything: bright or not. In the first case, it is better to use two primary colors and a third for decor. For example, it can be white and beige for the main color, and yellow or green for decoration.
If you want to arrange the whole bedroom in soothing colors, then you should choose at least three shades. It is better to combine warm and cold colors. For example, brown or beige with green or blue.
Also, the bedroom can be decorated in a rather rich or contrasting range. In this case, neutral colors (white or beige) should be actively used for balancing.
How to arrange the furniture?
Bedroom furnishing furniture directly depends on its area.
In the bedroom 20-25 square meters. You can arrange a double bed with bedside tables, a wardrobe or a small dressing room, a dressing table and a modest workplace or reading area. In such a bedroom a dressing room can be made cabinet or modular. They do not take up much space, are easy to install and have an affordable price.
If the room is not too stretched out, a closet or dressing room can be made with mirrored doors and placed opposite the window. In this case, the bedroom will appear larger and more spacious. A desk can be placed by the window, a bed in the middle of the room, and a dressing table in front of it.
In the bedroom 30 - 40 square meters. m. can accommodate a fairly spacious dressing room, which will have enough space for a boudoir. If desired, you can already make room for the bathroom. You can also organize a good place to relax and receive guests with comfortable seating. In such a bedroom you should think about a good panel dressing room. It will be not only comfortable, but also beautiful. It can be fenced off with a beautiful plasterboard partition.
Zoning between the sleeping area and the seating area can be distinguished by curtains - this will be a spectacular design trick.
Lighting
Lighting plays a significant role in any bedroom, especially in a large one.
In the bedroom, each zone should have its own local light.
For bedside lighting, you can choose wall lamps or floor lamps for bedside tables.
For the dressing table is better suited fixtures that can be attached above the mirror or on its sides.
For a cabinet with a mirror, you can purchase special light bulbs that can be easily attached to it.
For a dressing room, you should consider both the overhead lighting and the light inside the sections. For the reading area is perfect floor lamp.
The decor of any room depends on its style and personal preferences..
For the large bedroom, it plays an important role, since the free space must be filled. In a room of decent size, you can give free rein to your imagination and fill it with a variety of decor items: paintings and large panels, table and floor vases, stucco molding draped with textiles, a canopy over the bed.
Style and ideas in the interior
Large bedroom can be decorated in any style: classical, modern or ethnic. If the room has large panoramic windows, modern styles (minimalism or high-tech) will look particularly impressive. It is very nice to decorate a room in oriental style. A large area will allow to actively use curtains and beautiful textiles, as well as build a chic canopy over the bed. Classic and art deco - styles that are designed for large areas, so they should also take a closer look.
Now consider some interesting interiors of large bedrooms. Let's start with ethnic design in an excellent brown tint with white textiles. In the center of the room there is a four-poster bed, and along the perimeter, all the necessary functional zones are evenly located.
The interior in the style of minimalism will be appreciated by those who do not like extra details and appreciate the spaciousness. However, in this interior it is necessary to add a few accents, which can catch the eye.
In conclusion, we will consider a bedroom that will appeal to lovers of tradition and furniture. in english style. Calm colors, pictures on the walls, a photograph and a floor lamp on the bedside table create a cozy atmosphere. It is worth noting the area allocated for yoga.
See more interesting interior design ideas in the next video.