Bedroom wall design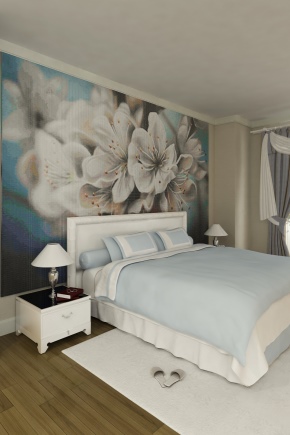 Features of planning
If the accent wall in the bedroom is decorated with bright materials with contrasting prints, it should not be weighed down with a large number of decorative elements. They simply "dissolve" on such a background and lose all meaning.
It is recommended to choose not too transparent, but not very dense options.
Properly selected finishing materials of suitable colors can transform and decorate the rooms of any shape and layout. It can be a cozy space in a city apartment or in a wooden country house.
Color selection
It is not recommended to apply to such a finish if the bedroom has small sizes. Dark walls will visually reduce the space. Such a design solution is suitable only for spacious rooms of a large area.
On the background of green walls, furniture made of different materials looks attractive. It can be expensive natural wood, light plastic or metal. With the help of soothing natural colors, it is possible to create interiors of various styles - from classic to high-tech.
Gray is in harmony with many shades. They can be neutral, pastel or contrast.
It is not recommended to refer to such wall decoration for a room located on the north side.
It is not recommended to finish the bedroom with bright pink colors. Such a design will annoy and interfere with fast falling asleep - especially if it is located opposite the bed.
The peach tones are fashionable to turn to for the decoration of the room, located on the north side. So the room will get more "warm".
Finishing options
Moldings should be in harmony with the interior of the bedroom. In a setting filled with pretentious furniture and complemented by luxurious stucco, this decoration will look inharmonious and ridiculous.
As a rule, soft elements are used to design the space above the head of the bed or to finish the accent wall.
Materials
Do not think that this finish is presented exclusively in natural brown and cream tones. Modern manufacturers offer luxurious bamboo wallpapers of various shades - from classic to bright and rich.
Decor
Do not hang pictures on the walls of the bedroom, the plot of which is sad, dull and depressive. Such elements will have a negative impact on the mood of the owners.
Interesting design ideas
Reviews