Photo wallpaper in the bedroom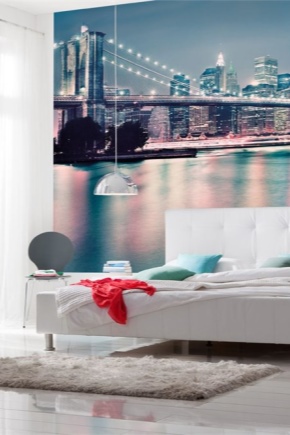 Features and benefits
Choosing photowall as a way to decorate a room, you should pay attention to the fact that the surface-base for them should have an absolutely flat and smooth surface. Otherwise, cracks or bubbles may form during bonding, which will severely damage the appearance. Special care and caution should be applied when working with large-format photographs. Sometimes it is better to divide them into several fragments.
Room decoration
You can stick the wallpaper above the bed. Then the shelves for books or trinkets, TV and other mounted structures will be placed on other walls.
Popular options
Flowers
Animals
Landscapes
Modern theme
Photowall-paper depicting romantic, beautiful pictures (lips, a couple in love, a playful inscription) are perfect for a young girl.
Colors
Combination Methods
If there is not enough light in the room, the use of photo wallpapers with a macro image of flowers against the background of the main wallpaper of warm orange and yellow tones would be an excellent way out of the situation.
Style decisions
For a bright and joyful Hawaiian-style wallpaper with the image of lush tropical vegetation, the sea, white sand, and a surfer conquering a wave will do.
In the nursery
Before choosing a wallpaper you need to decide on their placement (wall, entrance door,closet door, headboard). The color scheme of the selected canvas must be combined with the general background of the room.
Feng Shui selection
How to care?
Typical mistakes when decorating
Beautiful ideas of interior design in the apartment