Blue wallpaper in the bedroom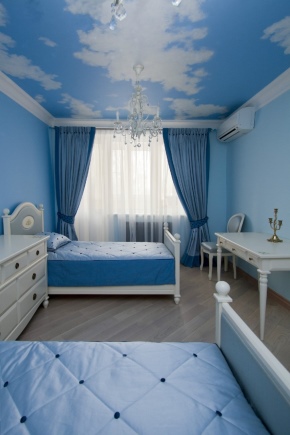 When you decorate the interior of the bedroom blue is very popular, and for good reason. The shade of the clear sky and the azure sea brings pleasant memories, helps to relax, get rid of heavy thoughts and depressive mood, charges with positive energy and gives a charge of cheerfulness. Blue looks great in the interior, designed in any style. It is harmoniously combined with furniture, accessories and decor of different colors and designs. Today we will talk about the blue wallpaper in the interior of the bedroom.
Advantages and disadvantages of blue
Not every color looks perfect in the bedroom. This is by no means blue. This deep, beautiful shade has a number of advantages over its neighbors in the color palette:
Soothing and relaxing effect on a person.
Visual expansion of a small space. This light, airy shade makes the room brighter and more spacious.
Blue color fills the room with air, purity and freshness. This design option is ideal for rooms located on the sunny side. Even on the hottest day, they will feel the morning coolness.
This color is perfect for children's or teenage room, for the bedroom of a young girl. Does not cause irritation and feelings of rejection (as opposed to pink).
Its disadvantage is rather conditional: too many things kept in this cold color can make the room not very cozy.
Kinds
Blue is a very beautiful, versatile and versatile color. It includes many shades: from the subtle heavenly to deep turquoise. Wall-paper can be presented in the most different tones of this color.
Today, the monochrome version is considered one of the most popular trends in interior design. The bedroom can be decorated with blue wallpaper, and furniture, textiles, decorative elements will also be designed in different shades of the same color.This interior looks very unusual, stylish and beautiful.
The wallpaper itself can be plain or printed. Blue blends perfectly with gold or silver monograms, curls, flowers, geometric patterns and other patterns. Patterns on the wallpaper may have other shades, more contrast and vivid (compared with the celestial). It can be green, red, white, black ornaments.
One of the most unusual for the bedroom print options is a marine theme. But it fits nicely on a blue background. This is all kinds of shells, sea animals, algae, stars.
Ceiling, decor, accessories
In order to maximally emphasize the expressiveness of this tone, it is necessary to take a very serious approach to the choice of floor and ceiling decoration, selection of furniture and decorative design of the room.
Curtains can be in the same range with wallpaper, have a more saturated, bright shade of the same color or be contrasted. Blue, white, turquoise curtains go well with azure wallpapers. They can be monophonic or decorated with a small print (flowers, leaves, peas).
The ceiling in the bedroom with blue wallpaper can be white or any shade from a single palette with walls. Undesirable sharp contrast transitions and drops.The multi-level ceiling can be made in several shades of heavenly color and is decorated with clouds, stars, and dim flower compositions. Glossy coating will visually make the room more spacious.
Turquoise wallpaper and ceiling create a rather cold interior. To dilute it, adding coziness and home comfort, will help furniture made of natural wood or materials imitating it. The color scheme should look as natural as possible (dark brown, beige or even cream).
Beautiful interiors
The classic combination of white and blue tones refreshes any interior, makes it easier, and the room - spacious. Furniture, decor elements, textiles are selected in one design and in a single color scheme. Everything looks very harmonious and complete.
There are many colors in one bedroom, but the interior does not look overloaded and heavy at all. Shades of blue and brown are selected in an ideal ratio in relation to each other. For the decoration of the walls, three types of blue companion wallpaper were used at once.
Rich turquoise blends beautifully with white. Spacious bedroom in a private house sustained in a rather strict, discreet style. The decorations are a beautiful cover with a floral print and small decorative details.
And in the next video you can find out what criteria you need to follow when choosing wallpaper for the bedroom.