Dressers in the bedroom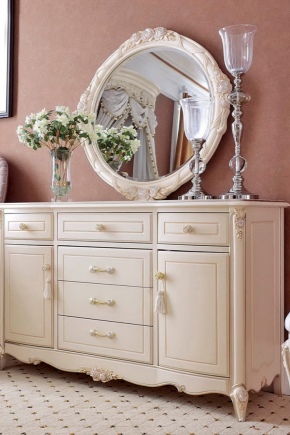 Models
No mirrors
Dressing tables
Dressers
Corner
Suspended
On legs
With bedside table
Modular
Dresser rack
Radius
Sizes and shapes
To be able to comfortably use the dresser, the distance from the dresser handles to other furniture or the opposite wall should be at least seventy centimeters.
Remember that to ensure the safety of the baby, this version of the furniture must have fasteners for reliability and protection from falling.
Color solutions
Ivory chest of drawers looks soft and fashionable.
Design
Classic style
Modern
Minimalism
High tech
Art Deco
You can find a model, the facades of which convey the texture of a fabric diamond-shaped upholstery, and rhinestones replace the presence of "studs".
Provence
Materials
Tips for choosing
You can offer your child to decorate the product using their imagination.
Variants of placement in the interior