Bedroom air conditioner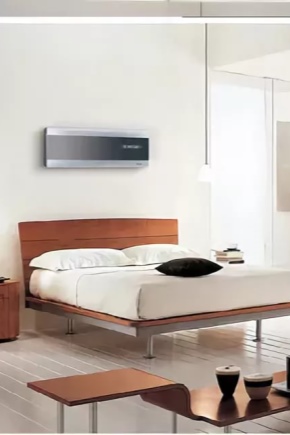 Do I need air conditioning in the bedroom?
Most often, it is simply impossible to fulfill the first condition without using an air conditioning system - especially in apartments with a central heating system.
Tips for choosing
In addition, choosing an air conditioner, you should consider the size of the room in which it will be installed, as well as its quality characteristics.
The best solution to meet all these requirements is considered to be a stationary air conditioner with split-system. The indoor unit of this system is installed in the room, the outside - from the outside of the house.
World-famous companies Hyundai, Ballu, Kentatsu, LG, Toshiba Fujitsu General and others also offer models that are equally suitable for bedrooms.
How to install?
As for the external unit of the split-system, the optimal solution would be the location outside the window. For this purpose, special brackets are used. When planning the placement of both units, their interconnection is taken into account - in the form of a route consisting of two copper pipes of different diameter, electrical wiring and drainage.