Fashionable wall painting in the bedroom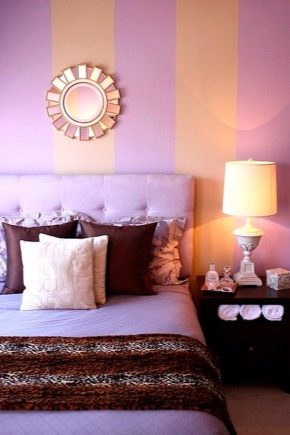 The bedroom is a special place in the house, where peace, comfort and peace should prevail. That is why the design of the interior of the bedroom should be approached with special care.
The color value in the interior
In fact, this is a whole science - to choose the right color, choose the right combinations and place accents. After all, how well and harmoniously decorated the interior of the bedroom, depends on how its inhabitants will feel in it.
When choosing colors for the walls in the bedroom, it is important to remember that all shades have a different effect on the mood and sometimes on the well-being of the person. It is proved that:
Green and yellow allow you to feel calmer, reduce fatigue, relax. In addition, surrounded by green and yellow shades a person becomes much more optimistic.
Beige and pastel yellow - These are shades of comfort and peace of mind, contributing to the search for compromises in controversial issues.
Turquoise - gives a feeling of freshness and lightness.
Blue - improves sleep, bringing peace and a sense of peace with it. But it must be "diluted" with bright accents in order not to get a "cold" room.
Orange - It is associated with warmth and comfort, contributes to improving the tone and stimulation of the active areas of the brain.
White - it is calm, light and clean. However, a large amount of white in the interior makes the room cold and too "sterile".
The black. The excessive use of this color will make the brightest room gloomy and gloomy. However, in most interiors it is used for graphic types.
Gray - able to give the room a business look.
At the same time, light pastel colors are able to add light to a room and visually expand its borders, dark ones, on the contrary, narrow space.
Variants of combinations
One of the trends in the design of a room for sleeping and rest is the principle of "3 colors", which involves painting walls in three different tones. Their combinations can be:
Monochrome - with the use of several tint variants of one primary color. For example, brick-red and burgundy accents on a pastel-pink background.
Related This option involves a combination of closely spaced colors. For example, the interior is in blue-violet-pink tones or in green-yellow-blue color.
Contrastingbuilt on color contrasting. For example, black and white.
Choosing the color to paint the walls, the designers advise using a special table, according to which:
White It goes well with any other colors, but it looks especially good with all pastel shades, gray, gold and in contrast with black.
Gray. The most advantageous variants of the "neighborhood" - with yellow, red, orange, green, blue, white, purple additions. But with brown and gold it is better not to use it.
Orange. It is harmoniously combined with any color, but most effectively - with brown, green, violet, pink and blue.
Yellow. It is used most often in combination with various shades of brown, orange, green, white, gray, violet, but it can be in harmony with other colors.
Pink. Ideal combinations with white, beige, gray, blue tones and any pastel shades.
Independently developing ideas for decorating the walls of the bedroom, in addition to color combinations, it is important to consider:
Dimensions and shape of the room. In small rooms you should prefer light shades that will visually expand the space.
Registration of other elements of the room (furniture, ceiling, floor).
The location of the bedroom relative to the sides of the world (for the southern pick up a colder palette of colors, and for the north - warm colors).
The number and arrangement of windows (the less natural light, the brighter should be the color of the walls).
And, of course, their own preferences and lifestyle of the owners.
Harmony of color and style
Creating a design room, where they usually spend most of their time, professionals recommend taking into account the stylistic orientation. Each style has its own rules and preferences:
Provence "loves" light pink, milky and blue tones;
eco-style to swamp and brown;
Baroque prefers pastel shades;
in the classics, the presence of white is obligatory;
hi-tech is unthinkable without gray, black and white;
minimalism welcomes the contrasting combination of black and white;
sand, light shades of yellow and brown are suitable for country music.
However, to create your own unique interior rules can sometimes be broken - fashion trends welcome the combination of incongruous and unusual decisions.
Accents
When decorating walls in a country house or apartment, many try to avoid dull, bright images. And designers consider such an approach to design to be correct - for harmony and well-being, bright accents must be present in the room, which will emphasize the central furnishings.
In the bedroom, the main element is the bed, so the emphasis is most often placed on the wall behind its headboard. To do this, use bright colors, contrasting with other surfaces, paintings or unusual design.
Design solutions
Correctly choose the option to design the bedroom will help the original design solutions,offered by professionals:
Spacious rooms for sleeping and relaxation will look aesthetically and harmoniously. with dark brown walls, partially covered with lighter furniture and decorative elements. As an option, only a separate section or one wall is painted in dark brown. The remaining wall surfaces are made in the same color, but in its lighter shades.
Another variant - gray or beige wallsOn which bright flashes of other colors are applied. Instead of color accents, various decorative components are also used.
A small bedroom with an insufficiently bright natural light will change if you arrange it. in white color, creating accents in the form of paintings or panels in a minimalist style.
The number of design "secrets" of fashionable design of bedrooms also includes horizontal stripes, which contribute to a visual increase in space, textured paint (for decorative plaster) and many other options.
Paint selection
The interior design project is ready. It's time to choose a material for painting.Modern manufacturers offer a wide range of finishing coatings. But the most affordable and yet practical option for many years is considered to be acrylic or acrylic-latex based emulsion paint.
This paint has a lot of advantages that allow you to use it in the bedroom. She is:
dries quickly;
harmless to humans and the environment;
does not have a sharp peculiar smell;
allows walls to "breathe";
not afraid of high humidity and resistant to mechanical damage.
In addition, it can be given any tone or shade - to do this, it is enough to add a suitable color pigment to the colorless composition. At the same time, it is recommended to dilute all the paint at once, since there is no guarantee that a second time it will be possible to achieve 100% identical shade.
Choosing paint it is necessary to take into account the fact that after drying its color becomes lighter, slightly changes the shade.
Painting the walls is not only fashionable and beautiful, but also the simplest option for decorating the walls in the bedroom. Therefore, all the work is quite possible to do their own hands without the help of professional painters. But here, the main thing to remember that the most impressive and correct any painting composition will look only on perfectly smooth walls.
Video on how to paint the walls with water-based paint, see below.