Repair in a small bedroom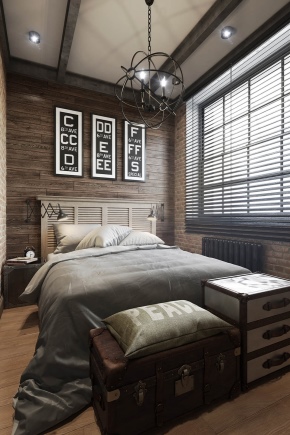 Homeowners want to turn it into a practical and cozy place. This is especially true of bedrooms, where a person spends a lot of his time. One of the problems in solving such problems is a small area of ​​the room. This does not always allow the use of standard design solutions. But do not despair, because even a small bedroom can be turned into a beautiful and practical room. To do this, you need a little desire and financial investments.
Special features
Repair in a small room is a long and complicated process that is not always possible to perform independently. It is important to choose the right building materials. You can do this, guided by a few simple recommendations:
All finishing materials in small apartments should visually increase the space;
As a flooring it is desirable to use a laminate or parquet light colors. To expand the space in a small area, you should put the boards diagonally;
Ceilings are painted only with light colors. Try not to decorate this surface with two-level systems, as they not only visually, but actually reduce the height of the bedroom;
For the walls it is recommended to use soft colors. If you are not a fan of monotony, then it is better to use neutral pictures as pictures. Also suitable images with plants.
Repair work in the "Khrushchev" can be divided into several consecutive steps:
Dismantling operations. These include the removal of old coatings and the demolition of partitions. The last operations are performed only when necessary and with the relevant permits of the controlling authorities.
Laying electrical networks. It is important to completely replace all wiring in the bedroom with a new one, taking into account the future used appliances. This will eliminate the risk of failures or fires.
Alignment of the main surfaces. Such works are performed using various materials and technical approaches.It all depends on the desire of the owner and his financial capabilities.
Dressing. This stage is the final and most important. It assumes the exterior of the bedroom in the style chosen earlier. There are many materials and approaches that need some experience.
Drawing up a design project
Regardless of which room is supposed to be repaired, before it is carried out, all the main components of the design should be selected. This also applies to the bedroom, where the design project is the key to a unique and practical interior. This plan is a comparison of several factors:
arrangement of zones;
the location of the furniture;
design characteristics of all attributes.
Often, to facilitate, you can use any style that is perfect for a small bedroom:
Classic design. The design of this room includes simple furniture and curtains. All attributes are in perfect harmony with each other, and the design is practical, but pleasant and beautiful.
Country music. Bedrooms in this style resemble something rustic houses with their simplicity.It uses natural materials (stone, wood, etc.), which are in perfect harmony with each other.
Minimalism. The name already speaks for itself, since there are no unnecessary pieces of furniture in the interior of such bedrooms. Usually in the room set only the bed and a small chest of drawers for things. If sizes allow, sometimes they are supplemented with several simple shelves.
East style. In the design of such a direction there are light motifs that are combined with natural materials (partitions, furniture, accessories, etc.).
It is advisable to use for the arrangement of the bedroom mirrors. These elements allow you to visually expand the room and give it originality. If a similar reception is planned, then it should be borne in mind that a large cluster of mirrors should be carefully thought out.
It should be noted that the above styles are not universal. When drafting a design project, no one bothers to combine all the directions known to you. The right combination of them can turn your bedroom into a sophisticated and chic room.
Choose a color scheme
It is rather difficult to decorate bedrooms with a small area, especially when it comes to color.Many designers claim that for rooms of this type it is best to use bright colors, as they visually expand the space. Another purpose of this range is to create comfort and peace of mind in a person who is indoors.
Today, there are many design solutions for small bedrooms in various colors, among which are a few of the most popular:
White bedroom. Design in this style is simple and sophisticated. Color harmonizes perfectly with almost any elements of the interior. White tones are able to reassure, which is important for a person who wants to relax. If you want diversity, you can add a few multi-colored lamps to the room - with their help you can create a different mood and romantic atmosphere.
Blue bedroom. The advantage of this color is that it helps relieve nervous tension and pacify a person. But this color is cold, so designers recommend decorating only warm bedrooms with shades of blue. If you are an active person, then using such a room is easy to dispel negative energy and have a good rest.
Green bedroom. For the decoration of the room you can use almost all light colors, from grassy to emerald. Green color is a kind of freshness, which is transmitted to man. In such a bedroom, the eyes and the nervous system can rest very well. Designers recommend combining this color with shades of gray, brown, turquoise, etc. This will create a unique and pleasant interior.
Purple bedroom. This color is perfect for decoration of small bedrooms. To get a beautiful effect, it should be diluted with white, beige and other similar shades.
It should be understood that the options described are not the limit of perfection. Today, gray, silver, yellow and many other shades are also used to decorate small rooms. At the same time, all of them are combined in various combinations, which allows you to give the room a special look and atmosphere.
Furniture and interior details
An integral attribute of each bedroom is the bed and other structural elements. It should be borne in mind that small rooms are not able to fit full-fledged bedroom sets (bedside tables, wardrobes, chest of drawers, etc.). So try to use the minimum amount of furniture here.
Here are a few options for arranging small bedrooms, very beautiful and cute:
If you want to make the bedroom as comfortable as possible, you should follow these guidelines:
The bed should be not only beautiful, but as compact as possible. Many designers recommend installing designs without legs. It also visually increases the space.
For storage of the best solution is a built-in wardrobe, which is decorated with mirrors.
To position the maximum number of elements, position them closely. For example, cabinets fit tightly with the bed or cabinets.
The best option is the furniture with right angles. Try to avoid rounded surfaces, as they take up a lot of space.
Repair in a small bedroom is an important step in the transformation of the apartment, which needs careful planning. To get a quality result, be sure to consult with different specialists. They will help you choose everything from materials to interior design methods.