Pink bedroom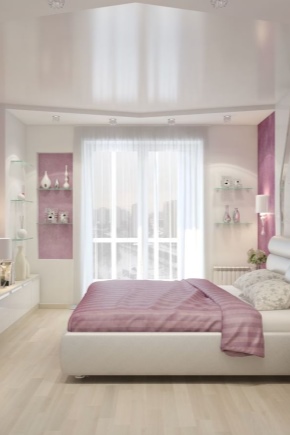 Gentle, dull colors, beautiful furniture, lovely knick-knacks are integral parts of such a setting.
Special features
In this case, it is perfect for creating bright accents in a restrained interior.
Color combinations
With white
Snow-white can be furniture, decor, curtains, textiles, bed linen. And vice versa - the pink shade can become dominant.
With gray
With olive
The pink-olive room "comes to life", becomes fresher, gives a feeling of calm and peace.
With purple
But light shades of roses, lilacs, violets, especially in a sunny room, look just great!
With brown
With green
With blue
To make the setting more elegant and festive look, you can add elements of white.
With black
Black should not be too much. It is usually used in the decoration of bedspreads, curtains, flooring patterns, can decorate one of the walls.
With yellow
With gold
Furniture, lighting, decor
Bright, rich colors should be muffled by more calm and restrained colors. Only then will the room look beautiful.
Snow-white curtains, a peach-colored bedspread or bed linen, and pale yellow decorative elements will help to muffle deep, poisonous pink tones.
Useful tips
Such a room will immediately become more expressive, bright accents will add to the restrained atmosphere.