Pier glass with mirror in the bedroom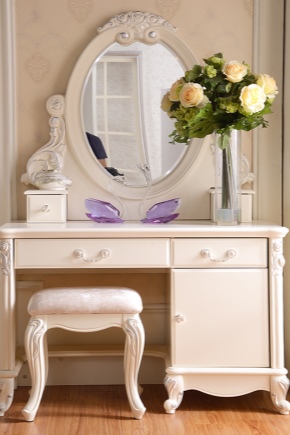 A beautiful mirror with a mirror in the bedroom is not only the decoration of the room, but also the real assistant of any lady. It is always convenient to do makeup and hair in front of a mirror, and various drawers and various shelves are perfect for storing cosmetics, jewelry and various useful things that every woman needs (hairpins, pins, and much more).
Functional furniture for modern fashionistas
The age of the mirror mirror is quite solid (about three centuries), but it does not cease to be relevant and is considered one of the mandatory pieces of furniture in any bedroom.
A large number of small things can be hidden in the dresser - and thereby maintain order in the room. This piece of furniture also has a lot of other advantages:
Simple construction. This makes it easy to disassemble and assemble furniture without the help of experts.
Freedom to move. If you want to slightly change the atmosphere in the room, the pierum can be easily moved to another place.
Large mirror surfacein which you can see yourself in full growth - for example, trying on clothes.
Functionality. This is a convenient locker, a large mirror and a small table where you can put a vase with flowers or a night light.
Wide range of, allowing you to choose a model for any interior.
With all this, this piece of furniture can be easily placed both in a spacious and in a very small room, since the modern model range is presented in a variety of sizes and shapes.
Range
Today, designers and manufacturers offer many options for the dressing table in various styles of execution. Classic models are made in the form:
a small-sized dressing table;
mounted to the wall console with flip mirror;
a set consisting of a mirror and a small console on bent legs, there are also various drawers;
dressing table with a mirror in a richly decorated frame, complemented by two large side tables on each side.
There are different modern models:
in the form of a compact shelf with a box;
supplemented with all sorts of details in the style of hi-tech;
various forms and configurations, sometimes absolutely fantastic.
Today, there are not only the usual rectangular and square shapes. In the catalogs of furniture companies, you can always find a corner mirror, which will help to occupy an empty corner of the room and easily fit into the interior of even the smallest bedroom.
Due to the special design of the mirror of such a product will allow you to inspect yourself from several sides at once, which is very convenient, for example, when styling hair.
By size, the manufacturers conditionally divide all models of this type of bedroom furniture into three categories:
Large - from 1.5 to 3 meters wide. Such furniture is equipped with a significant number of drawers and shelves of different sizes, as well as a large mirror. In appearance, this product is more like a chest of drawers. There are models with legroom under the mirror (and without it).
Average - by the number of drawers and shelves may not differ from large products, but the capacity is not so significant.
Little ones - the most popular option.This product is suitable not only for small, but also for large bedrooms. It has only a few small cabinets (directly under the mirror) and a narrow countertop.
Among the color solutions (the palette varies over a wide range), the designers emphasize a dressing table in white and variants of pastel shades. They will harmonize with the pieces of furniture in your bedroom. But on the brown models, minor scratches formed during operation are less noticeable.
From classic to hi-tech
Making the bedroom, pay special attention to the overall harmony, a combination of all furniture with the chosen style of interior. For the convenience of consumers, the furniture industry offers a mirror with a mirror in various versions:
Classic. Distinctive features are clear straight lines, massiveness, matching shapes and shades. Best suited for large spacious bedrooms.
Baroque. It is allocated with models of light shades with carved legs, inserts "under gold" and floral ornaments.
Empire. It involves various options that are combined with the rigor of the forms. All details are as symmetrical as possible.Characterized by the presence of various decorative ornaments.
Biedermeier. A mixture of empire with romanticism. The dresser in this style is distinguished by the most balanced proportions in combination with simple shapes. The decoration of the product is elegant accessories.
Vintage. Models, antique, with stressed rough and frayed parts and handles of brass. The main feature is that they are made by hand.
Country or country style. Differs in simplicity and ease. Nothing superfluous and fanciful - everything is as natural and functional as possible. It is characterized by a large number of boxes and a large mirror. Product lines correct and smooth.
High tech. Products of this style orientation distinguish maximum conciseness of all parts, chrome fittings and maximum functionality. The dresser in this style can be made of plastic or glass, have the most unusual design and modern "chips" in the form of lighting or mechanical locks.
Minimalism. Simple geometric shapes with a minimum amount of additional decorative details (or with their complete absence) are welcome.It is characterized by monotony or contrast of black and white colors.
Each style dictates its own rules, which should be followed. However, when you design your own bedroom, you can add a zest to it by experimenting with combinations of different directions. Some designers offer to combine a Empire style pier glass with a general high-tech style. But here, as they say, everything is to your taste.
Materials
If earlier, only wood was used to make a pierum, now you can find models made of chipboard and board materials that replace wood and are veneered or veneered with film materials. There are also options from:
Models from any materials are presented by various design decisions. At the same time, classical dressing tables with a mirror are made mostly of natural wood, and more modern models are made of its substitutes.
Plastic, metal and glass are also used to make a pier in new style directions.
Make the right choice
To make the dressing table fulfill all its functions, serve as a functional decoration of the bedroom and a harmonious addition to the interior,it must be chosen correctly. For this professional designers suggest paying attention to the following factors:
The form. Angular options are considered preferable, as they are compact and allow you to leave more free space in the room.
Dimensions. They must correspond to the area of ​​the room. Wide vanities will look out of place in small bedrooms. In addition, there should be enough space in front of the pier to put a chair or a pouf, and also to be able to see yourself in a full-length mirror.
Functionality. The more cabinets, drawers, shelves, the more functional this piece of furniture will be. However, if there are enough cabinets, bedside tables and shelves in the room, then it is worthwhile to give preference to more decorative and elegant models.
Equipment. Many models are sold already stocked with chairs and ottomans, made in the same style and a single composition. However, there are some options that are offered individually. In the latter case, they will have to pick up more or less suitable additions, which is not always convenient and takes much more time and effort.
The material from which made the piece of furniture and its accessories. Not only the price, but also the lifetime of the furniture will depend on this parameter.
Bedroom design. The product should not contrast with the rest of the interior and "fall out" of it.
Colour. The most successful color solutions - those that will be the most compatible with the surrounding environment.
In addition, even before buying a dressing table with a mirror is to choose a place for it. To do this, designers are advised to pay attention to the well-lit areas. If there are no such people in the room, then in the place intended for the pier glass, it is worthwhile to place additional sources of light.
For more ideas on placing a dressing table with a mirror in the bedroom, see the following video.