Dressing tables with a mirror in the bedroom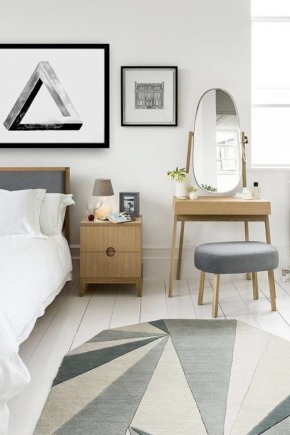 Special features
In fact, the dressing table is a personal corner for both the important process of preparing for publication and a place to rest or work.
Properly designed place makes the process of applying makeup easier, which helps good lighting and mirrors.
Dressing table should be in harmony with the general interior, not to stand out from it.
The main thing is not to clutter up the main surface of the table with unnecessary objects, so that it continues to look like a dream from the cover of a magazine, and not a cluttered bollard.
Varieties and models
In some cases, the set does not include a mirror or boxes, in which case you should take care of their additional purchase.
In a city apartment, the dressing table most often plays the role of a bedside nightstand on which you can put the necessary things, such as an alarm clock. In this case, it is better to choose concise models without side walls or drawers, standing at the top.
Design and design
Color solutions
Black and red, on the contrary, are not as common as they are too active.
Dimensions
It is not necessary to adhere to the idea that in the large bedroom and furniture should be massive, and vice versa in the small one - miniature. The dimensions of the table should be selected depending on the style, design of the existing interior and the preferences of the hostess.
Accommodation in the interior
If the size of the room is severely limited, it is best to take accurate measurements, and after that consider specific options.
When installing, be aware of the presence of additional outlets.