Bedroom in nautical style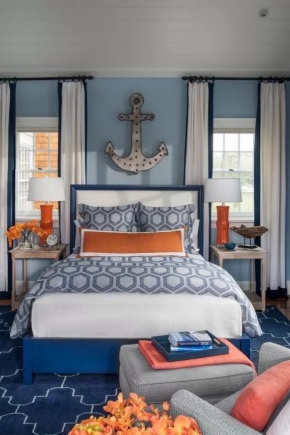 Special features
The basic concept affects the design, the choice of materials for decoration.
Color solutions
In the nautical style common sailor figure. It is an alternation of blue-white stripes in the classic representation. There are other color variations: white-blue, blue-beige, sand-blue drawings. Other common patterns are wave, zigzag.
Finish
Wall-paper is relevant not only monophonic, but also with thematic drawings of the ships, sea inhabitants. Wallpaper of jute and bamboo will create a natural natural comfort.
Furniture and decor
Best of all, the interior looks wooden furniture, especially with the effect of aging or styling bamboo. In the more beach version appropriate wicker chairs, chairs. In the classical style and the direction of the country it is recommended to choose dark shades, and in the Mediterranean or minimalism - light (and even white).