Bedroom in the style of "Modern"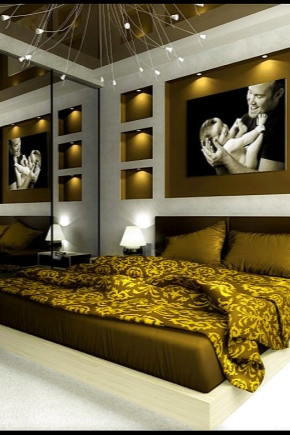 Distinctive features of style
In Europe, it became known as "Ar-Nouveau".
From here all confusion and wrong definition of style went.
Design
There are no laws and specific restrictions.
The severity is achieved thanks to light colors, built-in furniture and low beds.
If the bedroom is small and combined with a hall, it is separated by a screen or partition, upholstered in soft fabric. Such a reception will make the space cozy.
The floor may be darker than the walls or in tune with them. It is covered with parquet, laminate, tile or natural stone, carpets.
On the bedside cabinets are required creative lamps.
Color solutions
There should be a few such inclusions.
Furniture
Furniture can be varnished with colorless composition, white lacquer or other shades.
Items are purchased separately, ordered according to individual drawings, or you can purchase a comfortable Italian modular bedroom.
Decor
Beautiful photos of the interior