Bedroom in the style of "Chebbi Chic"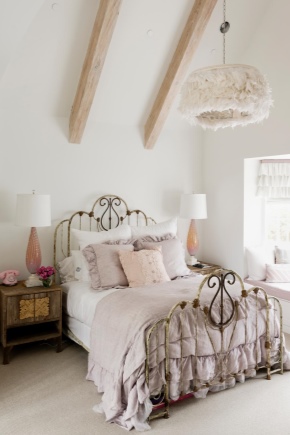 Features and characteristics of style
The basis of the style - old or new items, artificially aged. They bring the spirit of the time into the interior, evoke the memories of the holidays spent with the grandmother in the village, draw other pictures from the carefree childhood. This warmth distinguishes chebbi chic from other design techniques.
The listed features characterize the chebbi chic as an independent, original style that fits into the bedroom.
Finishing materials and colors
No need to take perfectly smooth wood.Abrasions, roughness and defects will make the appearance as close as possible to the natural. It is better to refuse ceramic tiles, linoleum and laminate in the bedroom. As for rugs, you should choose handmade items (woven carpets).
Choosing and placing furniture
Refined elegance with a touch of time - this is how the ideological orientation of the choice of furniture is characterized. Not everyone is able to find a real antique,Therefore, designers have found a simple way out - to buy old things and restore them.
Decor and lighting
In addition to the chandelier, lamps are added, taking up space on the dresser, cabinet, table.
For wall decoration designers advise to pay attention to the panels and vintage photos. All the trinkets and cute little things with history - the necessary accessories for the bedroom in the style of "Chebbi Chic."
Ideas in the interior
Decoupage - one of the most popular and affordable methods of decorating surfaces and things.
To bring such an idea to life is not difficult - all materials are available, and the techniques are not difficult even for a beginner in the works. But the main thing is that such hand-made things make the basis of a unique and cozy chic chebbi.