Green wallpaper in the bedroom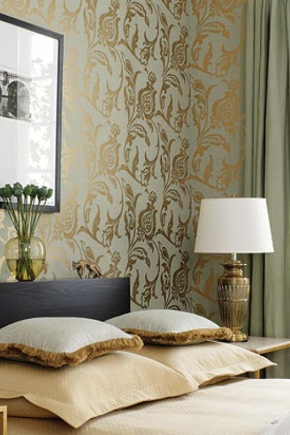 Special features
Variety of shades
The bedroom on the south side always gets a lot of sunshine, so for its design you can opt for noble shades. It can be saturated lime, color of menthol or kiwi. Bright textiles and accessories in shades of blue, lemon or turquoise will allow you to place accents in the interior.
Color combinations
With blue or black
With chocolate
With yellow
With blue
With red
Selection of furniture, textiles and accessories
After choosing a style, you can proceed to the selection of furniture and textiles. It is preferable to wooden furniture. Furniture made of bamboo or rattan will be a good choice. Wicker tables and chairs will also help decorate the interior. The choice of color solution is completely individual.
For decorating the bedroom are often used paintings, vases, pillows, flowers. They should harmoniously fit into the overall concept, but do not use only the green color scheme.