How to paint a brick wall on the balcony?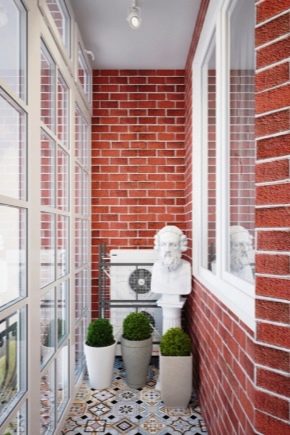 The exterior beauty of the walls is very important, and in many cases it is provided by applying paint. But the brick surface is quite difficult to paint. And painting it on balconies and loggias is even more difficult than usual.
Features and preparation
Painting bricks produced to protect the walls increase the resistance of structures. The protective function is extremely important if the temperature and humidity conditions change quickly and unpredictably. Without such protection, a brick is quickly soaked with water, and it destroys it very easily. Walls will be destroyed excessively quickly.It is equally important to improve the aesthetic parameters - if they are in the first place, you need to use paint with enhanced decorative characteristics.
Skillful use of paints and varnishes helps to confidently fit a brick wall into the appearance of a room, even when it fundamentally contradicts the canons of the chosen style. There are many options for self-decoration of the walls on the balconies, but it is important to remember the standard rules when doing this work. Coloring subject only masonry, stood for at least 1 year. This requirement is due to the fact that leaching must first end. Also, in 12 months moisture is balanced, and brick construction completes its shrinkage.
Both the bricks and the cement connecting them are richly saturated with alkali. While it is not neutralized as a result of special reactions, it is impossible to paint the material. Rather, pick up a brush, roller or spray can. But soon all the applied paintwork material will be on the floor. Brickwork must be cleaned even from small manifestations of mold and other fungi.
So that such manifestations do not happen again, it is thoroughly impregnated with antiseptic preparations. Before painting the brick wall on the balcony, it is mechanically cleaned and washed with soap suds or laundry detergent solution. These procedures must be completed 24–48 hours before the start of work. Proceed to the case should only be after everything is completely dry. All layers of salts are removed from the masonry, and the surface is treated with acrylic blends, which reduce the hygroscopicity of the material.
The choice of paintwork material
To start again: if the previous preparation is not performed or is performed incorrectly, any coloring composition, even the best, is completely useless. The cheapest remedy is slaked lime. On the loggia, it can be used fearlessly, because it protects the brick wall from the weather elements. Lime is diluted and smeared with a brush with a wide bristle. It is necessary to apply 2 or 3 layers of lime, then it will completely cover the smallest roughness.
The advantages of such coverage are:
excellent vapor permeability;
moderate antiseptic activity;
no need for primer application.
But we must remember that whitewashing easily soils clothes and hands. If you have to use the balcony actively, it will cause a lot of trouble. In this case, it is necessary to use water-dispersion paints of various types. It is important to understand that their quality varies dramatically. So, even if you correctly use paints based on silicate glue, they will last a maximum of 3-4 years. This is due to the low resistance to temperature extremes and moisture.
The opposite of silicate are acrylic-silicone mixtures. They retain the original qualities on average 12 years. The disadvantage of such mixtures is their high cost. The combination of acrylic and silicone misses couples, well experienced strong mechanical stress. If there are sufficient funds, it is this paint that you can choose without fear.
The top three for painting balcony brick walls include facade acrylic blends. They are resistant to dry cleaning. In addition, these materials guarantee good protection against rain, sleet or hail. Acrylic paint allows you to save and still get a decent result.What is important when painting the inside - the approach is fundamentally different.
How to paint the balcony wall inside
When selecting suitable colors, you can, of course, ignore all requirements for weather resistance. Water vapor permeability and water resistance are of minimum importance. But much more important aesthetic characteristics. The best choice always involves taking into account the type of brick. So, it is best to apply white silicate paints on an acrylic base on a silicate white massif.
Their advantages are:
affordable price;
safety for human and animal health;
high mechanical strength.
If the wall is made of ceramic bricks, you can safely use almost any coloring compositions. The only exception, perhaps, are oil paints. They as such do not meet the latest requirements. Specialists consider acrylate dyes the best solution. They are distinguished by excellent durability, easy to clean and look elegant.
An alternative solution could be a clear varnish. This type of material is perfectly combined with any type of brick.Such a coating is especially good when forming the original surface design. Luck looks great on the bare brick. But when selecting the appropriate solution, it is necessary to take into account the technical characteristics of each coating, as well as consumer reviews about it.
How to age a brick
This technique is completely combined with the use of light, elegant paints. Begin work with the formation of randomly spaced chips at different angles. The surface of the masonry should be treated with emery with large abrasive particles. Single plots must be burned with a torch to achieve contrast. After that, light-gray paint is applied, sharp strokes of which are from 1 to 2 cm long. Additionally, spots of small size are made (they reproduce the effect of a very old brick), and finally 2 or 3 layers of acrylic varnish are applied with a matte finish.
Characteristics of individual paintwork materials
Selecting the best coverage option, you can not take the first paint. We need only those that are specifically designed for processing stone foundations. Alkyd paint is notable for its impressive durability, and there are many tonalities in the assortment of leading manufacturers. After drawing the film keeps strongly.When it dries, there will be no bad smell.
However, we must remember that in the process of staining itself, being inside the house will be very unpleasant. The high cost together with a significant expense - these are two more things that make it difficult to use acrylic paint.
You can save money by using solvents. They do not reduce the brightness of the tones and the strength of the applied film. In addition, the same white spirit simplifies and accelerates the application of paint.
Acrylic paints can be chosen for the most original design projects. - after all, they have a variety of tones, consumed in small quantities. The existing range allows you to choose acrylic dyes for repair with any budget. The initial absence of foul odors allows you to work with these products without the slightest risk and inconvenience. An important limitation is that the acrylic coating is not sufficiently durable. The most affordable versions of it will not allow to close small defects (in this respect, they are worse than alkyd analogues).
Additional recommendations
First of all, it is worth considering the particular approach to the upcoming repair.The easiest way is to choose a paint for monotonously covering the entire wall with one color. If you choose a coating for painting bricks in one tone, and seams in another, you can proceed from the principle of conformity, and from the principle of contrast. Attention: those who are not well versed in these principles and their application should turn to professional designers. And also it is necessary from the very beginning to answer the question: do we need a smooth or textured surface.
If the choice is stopped on the old-fashioned oil paint, then to cover the external (street) surfaces it is necessary to use only white dye. Any other tonality due to the rapid burning out of the material will very soon lose its attractive appearance. When finishing the inner wall such a circumstance can be ignored.
If it is necessary to paint an uneven brick surface, a brush with a maximum width of 15 cm is used. But the joints between the blocks, the seams of the brickwork and the relief elements are processed with a brush no wider than 5 cm.
All paints containing solvents should be applied with brushes with synthetic bristles. Natural fibers are best compatible with oil paint.Roller take, when to use a stencil. It is used for dyeing, not affecting the seams. In the absence of experience in painting bricks, it is better to turn to professional craftsmen.
How to paint a bricklaying, look in the following video.