Masonry walls in one brick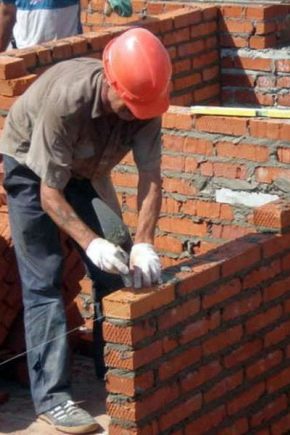 Types of bricks
In addition to the materials used for manufacturing, bricks differ in structural features. They are corpulent and hollow. The first are not subject to freezing, prevent the penetration of moisture, are well suited for structures with large loads. Hollow brick is used where lightness and good heat conductivity are needed.
Features of single row masonry
For the construction of a pillar or structure with a column, 1.5-2 bricks are required. Laying in one row is applicable in the construction of the basement of the house. In this case, these are seasonal holiday cottages, bathhouses, small outbuildings. As already mentioned, single wall masonry is applicable only in the construction of low buildings.
Payment
What should be the solution?
Do not use too liquid solution. Four parts of sand are used for the bottom rows per cement part. However, when 60% of the wall will be erected, for greater structural strength, the cement concentration should increase to the following ratio: 1 part of cement to 3 parts of sand.
The rules and technology of brick laying do it yourself
Vertical seams in adjacent rows should not coincide, otherwise it will not only lead to cracks, but also create a risk of collapse. The construction of corners should be given special attention, since they form the basis of stability. After finishing the rowing with a trowel, the seams are smoothed, in which the solution is pressed inwards.
Professional Tips
Laying always lead from the corners and continue to spread around the perimeter, under the hand, which is convenient for the handler.The corners are ahead of the wall in height, not less than four rows. After the fifth row, it becomes necessary to continuously monitor the vertical plane with a plumb line. It is used on the outside of the structure.
Ways and schemes
Seamless masonry "Vprizyk"
Laying "Vprizhim"
The method is rather laborious, because it requires more movements. Efforts are rewarded by the fact that the masonry is more dense.
The process of laying and leveling corners